Glasgow art school blaze: Displaced residents are promised help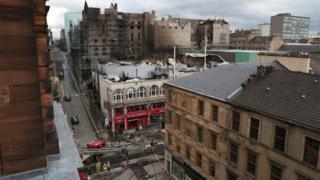 Residents forced to leave their homes after the Glasgow School of Art fire have been promised help.
Glasgow City Council said it will also deploy more pest-controllers after reports of rodents in the surrounding area.
A rest centre set up in the early hours of Saturday saw 11 people from affected buildings, but the council believes other people will have made their own arrangements initially.
A task force is being set up to help.
It will also deal with support for businesses in the Sauchiehall Street area - and the council said it is willing to discuss rates refunds and appeals.
Temporary accommodation
Council leader Susan Aitken said: "Temporary accommodation was arranged for a those evacuated by the emergency services and that remains in place.
"However, we are conscious that there are people who initially made their own arrangements, or who may have been out of the city at the weekend, who could still need advice or temporary accommodation."
She added: "We understand there are reports of rodents in the area and it is likely they have been displaced as drains fill with water during the firefighting operation.
"As it becomes clearer where they are being displaced to, we are putting additional pest control resources into the area to get on top of that situation."
Construction safety
Meanwhile Kier, the construction company in daily control of the Mackintosh building, said an agreed fire safety strategy had been implemented during the restoration project.
In a statement it said: "These included a smoke and heat detection system and regular evacuation tests as well as 24 hour, seven days a week security and fire warden patrols by a team of three guards, originally appointed by the client after the 2014 fire and subsequently by Kier.
"We continue to work with and support Scottish Fire and Rescue Service and our client as they determine the next steps for the Mackintosh building and site.
"We have a passionate team of local construction and crafts people, skilled conservators, supply chain and engineering specialists who have worked incredibly hard on this iconic landmark, and together we are all keen to do whatever we can to help moving forward."
Investigation
Fire investigators have promised they will find out what caused the blaze.
Assistant Chief Officer David McGowan said a "comprehensive and professional" probe will be carried out.
He said it was still too early to speculate if the fire started in the art school or in a nearby building.
Eight fire appliances remain at the scene of the blaze which broke out on Friday night, as "small pockets" of fire continue to be found.
Some experts have warned the building may have to be demolished with rebuild costs predicted to be more than £100m.
Assistant Chief Officer McGowan told the BBC's Good Morning Scotland programme: "The fire investigation process swings into operation as soon as our operational crews are on the scene.
"They will look at situations and issues such as which fire safety measures were in place beforehand, what was supposed to be in place, witness statements, CCTV footage and working with our partners we will collate that information into what will be the one, truly-informed source of what actually happened in this fire."
Interactive
Before and after: Glasgow School of Art from the air
After the fire on 16 June 2018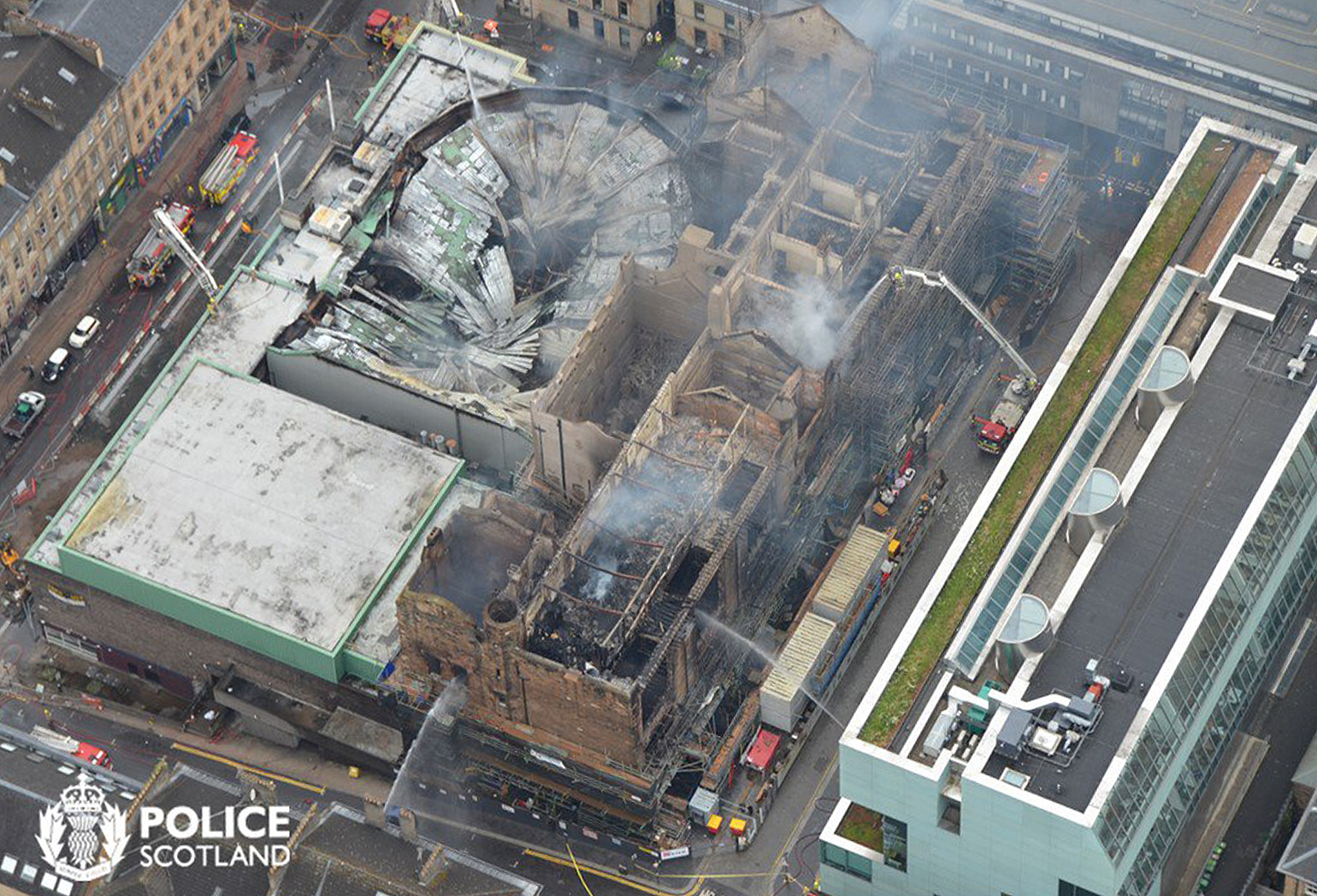 Before the fire - Google Earth 2018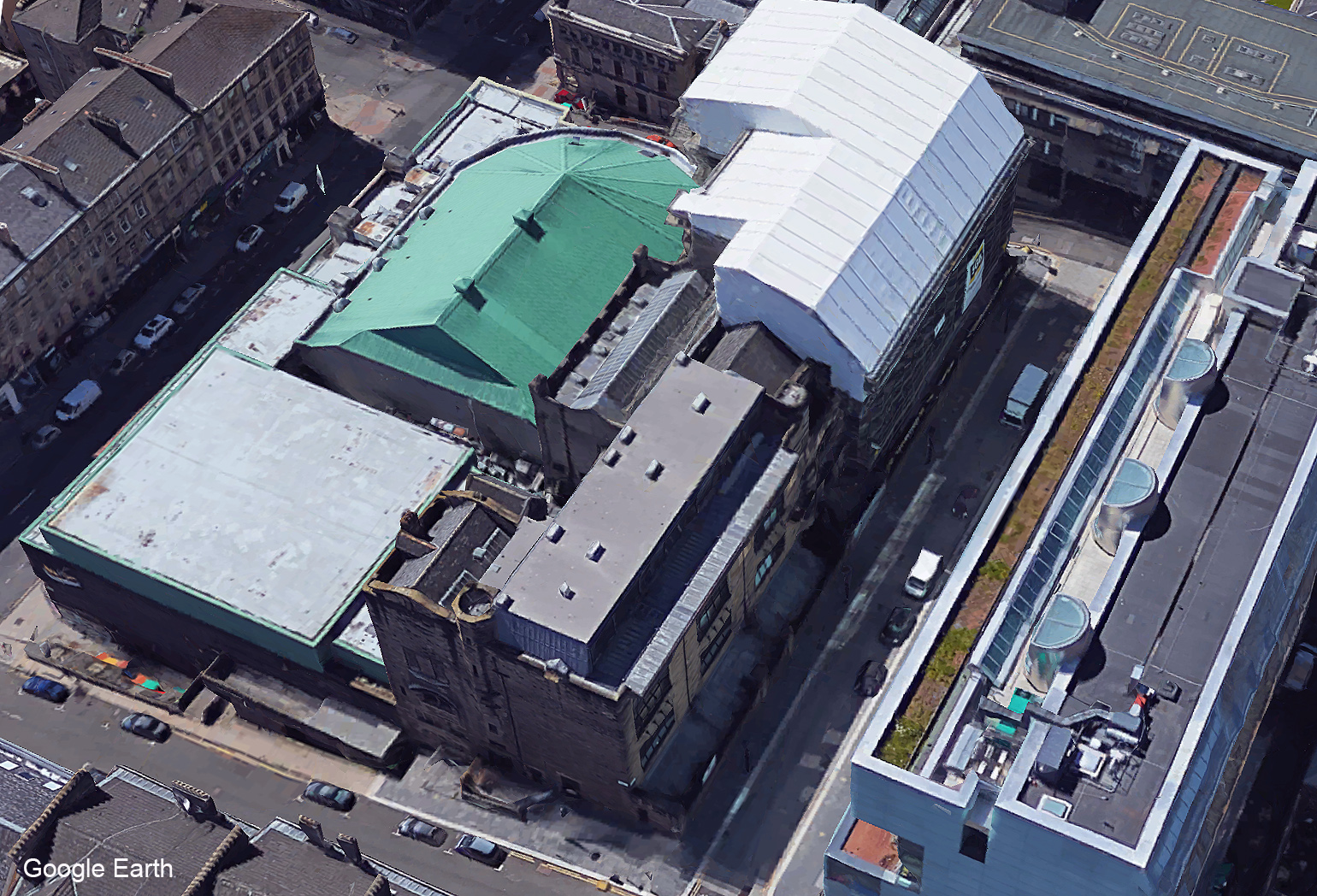 He added: "We can't speculate now as to exactly where it started. The scene of devastation is vast, as we've all seen from the aerial photographs.
"Our investigators will pinpoint a particular area of the complex structure of the buildings and that will be reported on in the final fire investigation report.
"It's very important for people to understand that it's a complex process to investigate such a scale of fire - and it will take time.
"The reason it takes time is that we want to conduct an absolute, comprehensive and professional investigation into what happened.
"And I can give this guarantee that we will find out what happened in this fire, what the cause was and what the cause of the spread was."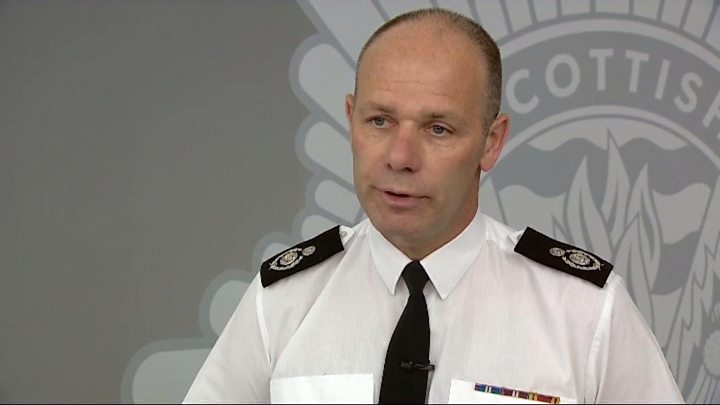 Billy Hare, a professor of construction management at Glasgow Caledonian University has said there was a "growing consensus" the globally-significant building may have to be pulled down.
He compared the intensity of the blaze with a fire at a building housing Victoria's nightclub in nearby Sauchiehall Street in March.
Within days of that fire, Glasgow City Council confirmed it would demolish the building.
But local MP Paul Sweeney insisted the Charles Rennie Mackintosh-designed school of art, which was about to be re-opened after a fire four years ago, "must be saved for the nation".
The Labour politician, who is a director of the Glasgow Building Preservation Trust, posted videos of the building after being allowed close access by the fire service.
He said: "It was clear that the interior is almost entirely lost.
"The one thing that did strike me was that the main structural beams appear to remain largely intact and are tying the wall-heads back into the building.
"That was a reassuring sign that there hadn't been any obvious movement in the main facades of the building. So that gives us some hope that, like last time, there can be some hand-dismantling of the upper sections of the building and then a reinstatement eventually."
He added; "Whatever needs to happen to make this building realised again as Mackintosh's vision has to happen.
"This is building is the pinnacle of achievement of British art nouveau architecture and it's my job as a member of Parliament to go down and say this building ought to be saved for the nation."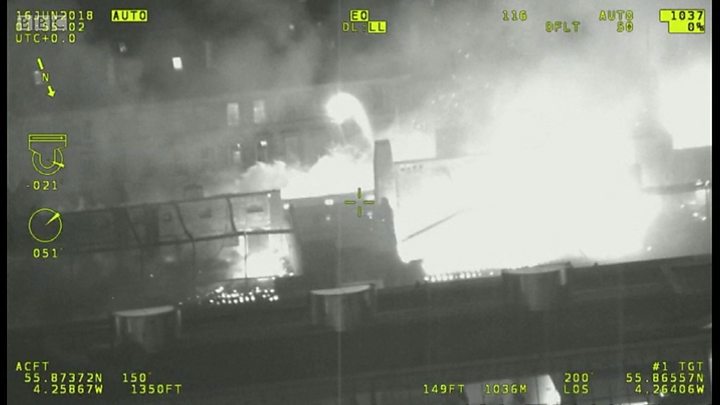 Meanwhile, Police Scotland has confirmed a cordon put in place following the fire will remain "for the foreseeable future".
The roads affected are Sauchiehall Street, Hill Street, Dalhousie Street, Renfrew Street and Garnethill Street.
Access to business premises within the cordon will not be allowed until the area is deemed to be safe.
Friday night's blaze, which also damaged the neighbouring O2 ABC venue, was the second to hit the Mackintosh building in four years.
It was undergoing an extensive restoration, costing up to £35m, while staff and students worked in neighbouring buildings on the campus.
No-one was injured by the fire, which was reported at about 23:20 on Friday.
At the height of the blaze, a total of 120 firefighters and 20 fire engines were at the scene and nearby homes were evacuated as a precaution. Hoses brought water from the River Clyde to help fight the flames.
The Mackintosh building was completed in 1909 based on designs by Charles Rennie Mackintosh, Scotland's most-lauded designer.
Glasgow School of Art has produced a number of leading contemporary artists, including Douglas Gordon, Alison Watt, David Shrigley, and recent Turner Prize winners Simon Starling, Richard Wright and Martin Boyce.