Two organised crime gang members have jail terms cut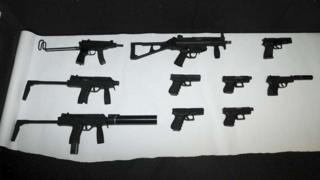 Two members of a serious organised crime gang whose members tortured a drug dealer have succeeded in a bid to have their prison sentences cut.
Anthony Woods, 44 and Michael Bowman, 30, were jailed in January 2018 at the High Court in Glasgow.
They were part of a nine-strong crime group convicted of drugs, firearm trafficking and organised crime offences.
Woods' sentence was cut by 28 months and Bowman's by six months.
Woods was originally sentenced to 11 years and one month in jail and Bowman to seven years. They had both admitted roles in "serious organised crime".
'Erred in approach'
A third gang member, Barry O'Neill, 37, who admitted being concerned in the supply of cocaine, failed to have his prison sentence reduced.
However, he succeeded in having an order which prohibited him from leaving the UK for six months following his release from prison lifted.
At the hearing at the Court of Criminal Appeal in Edinburgh, lawyers acting for Woods and Bowman argued that Lord Beckett had not applied the proper legal test when sentencing them.
Advocate Keith Stewart QC told the appeal court that Bowman's legal team had informed prosecutors that he intended to plead guilty shortly after his arrest.
Mr Stewart pointed out that the law states that offenders who always have the intention to plead guilty should receive a significant discount on their sentence.
He argued that Lord Beckett did not follow that guidance and did not give Bowman a proper discount.
He added: "The learned trial judge erred in his approach."
Mr Wood's lawyer Gordon Jackson QC also said Lord Beckett did not properly apply the law when sentencing his client.
The appeal judges agreed with the submissions made by Mr Stewart and Mr Jackson.
'Not proportionate'
Advocate Claire Mitchell, who was acting for Mr O'Neil, said her client's sentence didn't reflect his lack of previous criminal offending.
In response, Lord Menzies said: "We do not accept that such an order is necessary or proportionate in this case."
O'Neill's sentence remains at seven years and four months.
Last year, the High Court in Glasgow heard that the men were members of the gang which was at the "top of the chain" for drugs transactions in the UK.
The court heard the gang would package and and hide substantial amounts of cash to take to senior group members who would then use the money to buy guns.
The gang were also connected to the assault of a drug dealer and to shots being fired at an Edinburgh home.
The court heard officers seized more than 1,000 items including encrypted mobile phones, counter surveillance equipment automatic pistols, machine guns and a grenade. They also seized £1.6m in cash.
The offences took place at various locations across Scotland and England between December 2011 and February 2017.
Passing sentence on the gang, Lord Beckett had said: "There's no doubt the police uncovered the workings of sophisticated, serious and organised crime."