Family 'devastated' after lightning strike at home near Lenzie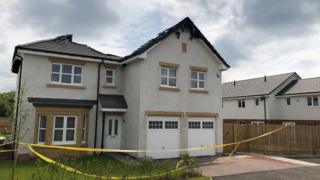 A man whose house was set on fire by a lightning strike in East Dunbartonshire has told BBC Scotland his family are "devastated".
Frank Malcolm was watching TV with his wife and two sons, aged four and two, at their home in Woodilee when the roof burst into flames on Saturday.
They thought it was a power cut and only realised the property was on fire when neighbours alerted them.
Mr Malcolm said the damage means they have "lost the whole house".
Pictures on social media showed flames leaping from the roof of the property.
The Scottish Fire and Rescue Service was called to the scene at about 17:45 on Saturday. No-one was injured.
Mr Malcolm, a surveyor, said: "A neighbour knocked on the door and told us to get out as the house was on fire."
He said the damage was extensive, with everything upstairs in the property "gone". He said the house was likely to have to be demolished and rebuilt from scratch.
He added: "We've lost the whole house."
The family had only moved into the property seven months ago and are now staying in a hotel.
Mr Malcolm will be speaking to his insurers on Monday.
The lightning strike came as parts of Scotland were struck by extreme weather including hailstorms, torrential downpours and flash flooding.