Rail disruption after Dalmuir line flood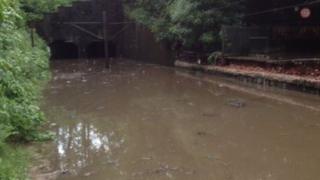 ScotRail is warning that rail services face continued disruption after flooding at Dalmuir in West Dunbartonshire.
The company said there was a significant amount of debris on the track after flood waters caused a wall to collapse on Saturday.
It has warned that the line is likely to remain shut for the remainder of Sunday as the clean-up continues.
The issue is affecting services through Yoker.
ScotRail said Clydebank, Yoker, Garscadden, Scotstounhill and Jordanhill stations were currently not being served, with passengers advised to use bus services instead.
Network Rail said that floodwater on the line had receded, although initial clearance work had revealedballast had been washed away as well as damage to equipment that had been submerged in the flood.
The company said: "The team are working hard to repair and reopen the railway as quickly as they can."