Man guilty of raping two women after spiking their drinks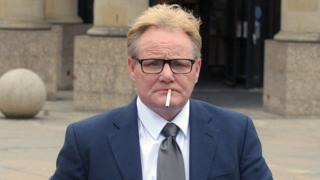 A rapist has been found guilty of drugging and attacking two women.
The attacks by George Cummings, 55, from Glasgow, took place 23 years apart.
He raped a 47-year-old woman in Langbank, Renfrewshire, in 1992 and a 50-year-old woman in Oban, Argyll and Bute, in 2016.
Cummings, who spiked the drinks of both his victims, will be sentenced next month. He was convicted after a trial at the High Court in Glasgow.
The most recent attack happened in a flat in Oban on 6 January, 2016.
Wine spiked
The victim told the court how Cummings visited her home after they hooked up on dating website Plenty of Fish.
She said: "He told me people said he looked a lot like Gordon Ramsay.
"When I saw him in the flesh I thought 'what have I done?'"
The woman, who cannot be named for legal reasons, told the court that Cummings went into her kitchen alone and poured two glasses of Rioja.
The woman, who was wearing black trousers, a black tunic top and boots, has no memory of what happened after she drank the wine.
Her next recollection was waking up at 3am dressed in a red dress and shoes.
She said: "I knew I had been drugged with something."
'I felt vulnerable'
The court heard Cummings then drugged her again by forcing powder into her mouth.
She said: "I told him I was worried something bad was going to happen and I felt vulnerable and he said he said: 'That's okay I like my women vulnerable.'
"I was worried I wasn't going to see my children again.
"I just wanted to make it through to the morning and for him to go.
"At one point he said he wanted a threesome with me and a 10-year-old girl."
The woman said she had made it clear to Cummings that she was not going to have sex with him, and described the sexual assault as "painful".
She added that he had offered to set her up as a prostitute.
Violent attack
Cummings' first victim had her soft drinks spiked first with amphetamine at a bar and then with cocaine in Cummings' flat in Langbank.
He then raped her.
His victim said she felt helpless and added: "I told him a couple of times I didn't want sex, but he just carried on.
"He was enjoying the pain he was inflicting on me."
The jury heard that during the violent attack Cummings ripped out handfuls of the woman's hair and threatened to turn her into a prostitute.
She also woke up to find at one point to find most of her clothing had been removed.
In evidence Cummings, who described himself as a self employed buyer of commodities and vehicles, denied having any more than a kiss and a cuddle with either victim and accused them both of being liars.
Judge Johanna Johnson QC deferred sentence until next month for reports and remanded Cummings, who has previous convictions dating back to 1979, in custody.
She also put him on the sex offenders register.
The judge said: "You have been convicted by the jury of two of the most serious offences within our legal system."