Ballantrae Primary School closed after major fire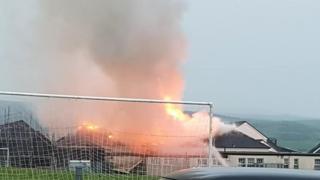 A primary school in Ayrshire has been closed after a major fire overnight.
Education officials said Ballantrae Primary School was likely to be closed for the "foreseeable future".
All 58 P1-P7 pupils are expected to be relocated to Girvan Primary School later this week.
More than 30 firefighters worked through the night to extinguish the blaze after the emergency services were alerted at 20:38 on Monday. The fire service said there were no casualties.
The blaze was contained within the main school building and caused extensive damage to three of its four classrooms. A new extension which is under construction was not affected.
'Sad end'
Councillor William Grant predicted it would be "many months" before children would be able to return to the classrooms.
He said the fire had affected everyone in the tight-knit community and it was a "sad end" to the school year.
Mr Grant, who holds the portfolio for lifelong learning added: "At this time it's too early for us to have a clear picture of the extent of the damage to the school building and the work that will be involved to bring it back into use.
"However, there's no doubt interim education arrangements will need to run well into the new school year and it could be many months before pupils can return.
"Our priority will be to maintain quality learning and teaching for our children during this time and that's what we will focus on."
The local authority said pupils were expected to be moved to Girvan Primary School, which is 15 miles from Ballantrae, from Thursday.
Plans are also being drawn up to relocate 13 early years children to Ballantrae Community Centre, probably from Monday.
A drop-in session will be held at the community centre between 16:00 and 18:00 on Wednesday for parents and carers.
Ballantrae Primary's head teacher, Yvonne Templeton, added: "We're all devastated by what's happened and really can't believe it.
"Our school is very much at the heart of the community in Ballantrae and I know this will have an impact on everyone not just within the school, but right across our village. However, we can all be grateful that no-one was hurt in the fire.
"My focus will be on supporting our children, staff, parents and carers while we're decanted from the school we know and love, but I know we'll take the spirit and ethos of Ballantrae Primary wherever we are."
Firefighters remained at the scene of the blaze on Tuesday, as they dampened down remaining hotspots.
Area manager Jim McNeill said it was a "complex and challenging" incident.
"This fire developed rapidly in the building, but thanks to our quick assessment and action plans that were put into place we were able to protect not only the community from harm, but ensure that the fire did not spread further in the school," he added.