Killer knifed Paisley man six months after breaching home curfew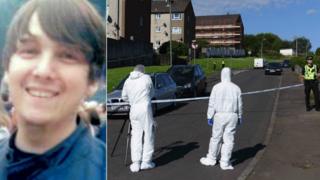 A man who stabbed a father-of-three to death in a random street attack had been illegally at liberty for six months when he carried out the killing.
James Wright breached a home curfew 11 days after being released from prison on 13 February 2017.
But he was still free on 23 July when he killed Craig McClelland, 31, in Foxbar, Paisley.
Wright, 25, was jailed for life when he appeared for sentence at The High Court in Livingston.
Judge Lord Matthews ordered that he must serve a minimum of 20 years.
The judge said: "You breached a curfew and it was revoked 11 days later but you remained unlawfully at large for nearly six months, during which time you committed this awful offence.
"I have no doubt that questions will be asked about that but I am afraid I have no answers."
During Wright's trial, a jury at The High Court in Glasgow heard that he stabbed Mr McClelland twice, seconds after stopping him in the street and asking him for a light.
Wright had 16 previous convictions, including two for knife crimes.
'Blood lust'
Lord Matthews said of the victim: "He was sailing through university and had everything to live for.
"On 23 July 2017, he left his partner and children to visit his brother to play the Xbox.
"He was never to reach his destination or to return home because he was brutally stabbed in the street for no reason brought out in the evidence other than blood lust."
The judge said a victim impact statement from Mr McClelland's partner Stacey "may serve to some extent to bring home the enormity of this crime and its consequences".
He then read out part of the statement, which said: "I have to watch our three sons in pain, sobbing, crying, asking questions that I cannot answer.
"My three-year-old on his birthday built his daddy out of Lego; the despair in my six-year-old's eyes when I couldn't build a Lego set for him, not in the same way daddy did; the devastating sound of my baby searching for his daddy in the night - constantly shouting on him - the way he flaps his arms in excitement whenever he sees a picture of his daddy, it completely breaks my heart."