Boy aged 10 faces deportation after being orphaned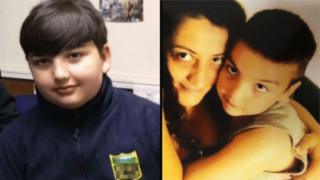 A 10-year-old boy who has lived in Glasgow since he was three faces being deported to Georgia after being left an orphan.
Giorgi Kakava moved to Scotland with his mother Sophie when his father was killed by Georgian criminals.
Ms Baikhadze died in February after suffering a long illness.
Now Giorgi's grandmother Katie Baikhadze, who he lives with in Springburn, is fighting for him to be given asylum.
She and her grandson are both waiting for a decision on their applications for asylum.
Katie Baikhadze told BBC Radio Scotland's John Beattie programme: "I'll give everything for Georgi because I get everything from him."
Giorgi only speaks English and calls Scotland his real home.
He said: "Life (in Scotland) is a lot better than Georgia. I just don't want to go back. I'm staying here. It's a lot more fun in Scotland."
His grandmother moved to Scotland 14 years ago before being joined by her daughter in 2011.
She said: "I took my daughter from Georgia because she lost (her) husband. In Georgia, they had a very, very hard life.
"She said all the time, 'I am really tired in my country. Thank you so much, for me and Georgi I now have a normal life'.
"She was very nice, very warm, a good girl. Everyone knows that. Then she suddenly died.
"She had said, 'Mum don't leave Georgi' because she was scared about Georgi's life.
"I said, no, I'm staying with Georgi. I'll give everything for Georgi because I get everything from him. I am very happy in Scotland, very happy."
The family's case has been highlighted by Church of Scotland minister Rev Brian Casey and backed by local politicians.
Patrick Harvie, co-convener of the Scottish Green party, also raised the issue at the Scottish Parliament on Friday.
A petition calling for Giorgi to be allowed to remain in Scotland has been signed by nearly 60,000 people in the past four days.
Mr Casey said: "The best defence is attack and that's why we've decided that we have to show that they are part of this community, that they have received a warm welcome in Scotland and it would be impossible for us to imagine them going back to Georgia.
"I know that Sophie had been turned down for asylum and was appealing and passed away, sadly, during that appeal. Therefore, that has left Giorgi in a bit of a position - being caught in the cracks between the appeal and the application.
"To think of Giorgi going back to Georgia - well, it doesn't bear thinking about.
"He has a good future here and his past has been here as well. We want to keep him here."
The family's solicitor will meet Home Office officials on Wednesday when they will again put forward their case for Giorgi to remain in Scotland.
A Home Office spokeswoman said: "The UK has a proud history of granting asylum to those who need our protection and every case is assessed on its individual merits."