Thief with 'gun' robs two Lanarkshire stores in 30 minutes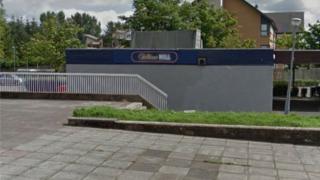 Police are hunting a man who used a gun to hold up two shops in Lanarkshire in the space of less than 30 minutes.
The man threatened staff in William Hill at St Leonards Square in East Kilbride at about 21:30 on Friday.
At 21:55 a man with a gun entered the Spar store at The Cross in Stonehouse and demanded cash.
No one was hurt, but staff were left distressed and detectives believe the incidents are linked.
Quantities of cash were taken from both locations.
'Hidden identity'
The weapon was not discharged in either incident.
Police Scotland described the suspect as being in his mid-20s, around 5ft 8 inches in height and wearing a black top, black jogging trousers and black trainers.
He had also tried to hide his identity by wearing a black scarf over his face.
Det Con Martin McKissock said: "I am appealing to anyone who was in and around these areas last night to think back and consider if they saw anything suspicious. Perhaps you saw the man dressed all in black and carrying a scarf and wondered why he was dressed in such a way given the warm weather we are currently experiencing.
"Did you see the white Volkswagen Golf car drive off, if you have any information no matter how irrelevant it seems, please do pass it on as any small piece of information could prove significant in our enquiries.
"I would also like to appeal to motorists who were in and around those areas last night for any dash cam footage. It's possible they captured information which could assist us in our investigation, so please contact police."