Man charged after police officers attack in Greenock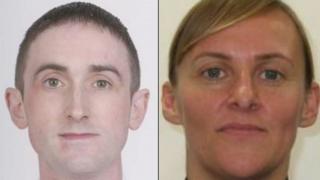 A man has been charged in connection with the attempted murder of two police officers in Inverclyde.
PC Laura Sayer, 39, and 43-year-old PC Kenny MacKenzie were stabbed as they attended a routine call at Gateside Gardens in Greenock on Friday morning.
PC Mackenzie was knifed in the neck while his colleague received an arm injury. Both are expected to leave hospital on Saturday.
A 43-year-old man is due to appear at Greenock Sheriff Court on Monday.
Constable Sayer has six months' service with Police Scotland and is still on her probationary period and PC MacKenzie has nine years' service.
Chief Superintendent Gordon Crossan, visited the two officers for an update on their progress.
Constable Laura Sayer is due to undergo a routine surgical procedure prior to being released later.
PC Kenny MacKenzie is also expected to be discharged from hospital today.
The chief superintendent said: "Both officers are in remarkable spirits despite what they have been through and are very appreciative of all the well wishes they have received from people across the country.
"They will be released into the care of their families and will receive support from Police Scotland and the Scottish Police Federation.
"PC Sayer and PC MacKenzie thank everyone for their support and ask for privacy while they recover at home."
At the scene yesterday, Assistant Chief Constable Bernard Higgins said a major investigation had begun.
He said: "I would like to take this opportunity to publicly praise the incredible bravery shown by these two officers during the extremely difficult and challenging situation they faced this morning.
"They have been seriously injured going about their duties and both they and their colleagues who subsequently attended to assist demonstrated courage and the utmost professionalism both during and after the incident.
"They receive the thanks and the support of everyone within Police Scotland."
He said the incident was not being treated as terrorist-related and was contained without any further risk to the public.
Extra patrols will be in place over the course of the weekend.
Both officers were taken to Inverclyde Royal Hospital and one was transferred to the Queen Elizabeth University Hospital in Glasgow.
'Significant and serious'
The assistant chief constable said their injuries were not life-threatening but "significant and serious" and said he had been to see both officers who were in "remarkable good spirits".
"I am blown away by the courage of them," he said.
"They said we are in the police and we accept that comes with a degree of risk. I was very moved and proud to speak with them."
He also said he had visited Greenock police office and met with the rest of the officers' team.
He revealed: "They are really emotional. They are hurting, they are upset angry and distressed. They have seen their colleagues badly injured.
"At the end of the day, police officers are humans."
The incident came at the time the force is about to deploy newly-trained Taser-armed officers.
The training of 500 officers in the use of the device began in May in a bid to improve the safety of the public and police officers.
Assistant Chief Constable Higgins said if Taser-armed officers had been sent to Friday's incident, it could have meant a different outcome.
He said: "Potentially, a Taser could have made a difference.
"Greenock is going to be one of the areas during the rollout period which will see trained officers deployed."
He said Police Scotland would do all it could to support the two involved, adding: "They will have physical scars, they will have emotional scars but I will guarantee that everybody in Police Scotland will do everything we can to help these officers."
DCC Iain Livingstone, the interim chief constable of Police Scotland, praised the "incredible bravery" of the officers.
On Twitter, he wrote: "All of @policescotland officers and staff thinking of them and their families. Courage, protecting their fellow citizens."
Andrea MacDonald, chairwoman of the Scottish Police Federation, said: "Our thoughts are with the injured officers and their families. Once again we see how difficult and dangerous a job it is.
"Police officers put themselves between other professionals and the public and dangerous individuals sometimes with life changing consequences for themselves and their families.
"We wish our colleagues a speedy and full recovery."