Man hurt in armed robbery bid at his home in Irvine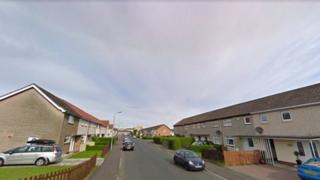 A man has been injured after confronting two armed men in an attempted robbery his home in Irvine.
The men entered a property on Dickson Drive at about 04:00 on Thursday where the 27-year-old man, his partner and four-year old daughter were sleeping.
After waking up, the victim confronted the men who demanded he handed over his car keys before an altercation took place.
The two men left empty-handed before heading along Dickson Drive.
Emergency services were called and the victim was taken to Crosshouse Hospital for treatment to leg injuries. He has since been released.
'Despicable individuals'
The suspects are described as having English accents and both had scarves covering their faces.
One was wearing a red T-shirt and the other wore a white T-shirt.
Det Con Jennifer Carruth, of Saltcoats CID, said: "The two despicable individuals broke into a family home with weapons and threatened the householder with violence.
"This type of abhorrent behaviour will not be tolerated and inquiries are ongoing to trace whoever is responsible.
"I would appeal to anyone who saw or heard anything suspicious in Dickson Drive in the early hours of Thursday morning to please get in touch."