Ed Sheeran fans forced to buy new tickets at Hampden show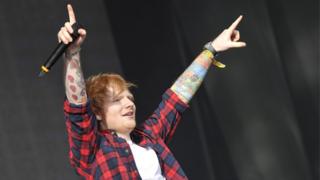 Ed Sheeran fans who bought tickets for the singer's Hampden Park gigs on resale websites have faced long queues to buy new tickets.
The singer had warned fans that secondary tickets for shows on his UK tour will not be accepted.
Instead, the tickets were cancelled and fans allowed to buy a new one at face value.
Some people were angry at the move, but the star says his "strong" approach will benefit fans in the long run.
Sheeran was crowned songwriter of the year at the 63rd Ivor Novello Awards on Thursday night, also picking up the prize for the most performed work for his hit Shape of You.
He will play three shows at Hampden Park on Friday, Saturday and Sunday.
Last week, fans who turned up to his Manchester dates with resold tickets were told they were invalid and had to buy new ones.
His promoters have cancelled more than 10,000 tickets that were resold on Viagogo for 18 dates in the star's sold-out tour.
The singer has been outspoken in his intolerance of secondary ticket selling websites which resell at inflated prices.
Secondary ticketing is when people buy tickets for a gig and resell them - usually using sites like Viagogo, StubHub, GetMeIn and Seatwave.
Some fans were angry at their tickets not being valid.
Katie Henry from Coatbridge is one of them.
She was given two tickets for Friday night's gig as a 30th birthday present from her father Ian, 64, who paid almost £500 for them via Viagogo.
But she is now bracing herself to join hundreds more in a queue to buy new tickets when hers are rejected.
Katie told BBC Radio Scotland's Good Morning Scotland programme: "My dad bought them through Viagogo, not realising Ed Sheeran wouldn't accept them at his concerts.
"All this came to light for me just a couple of weeks ago. I was absolutely devastated.
"My dad spoke to Viagogo yesterday and they 100% assured him I would get entry at the gates this evening but obviously Ed Sheeran has said otherwise, that we 100% won't get entry with a Viagogo ticket.
"My dad did ask them to put it in writing but they refused."
Speaking at the BBC's Biggest Weekend in Swansea last weekend, Ed Sheeran said: "The only people it is going to harm in the end is the touts.
"I hate the idea of people paying more than face value for tickets when you can get them at face value."
Katie is confident she will get into the Hampden gig, but knows she will have to pay for it.
"Ed assured no fans would be turned away. If we are refused at the gates with our invalid Viagogo tickets we will be redirected to the box office at Hampden Park where we will be able to buy two brand new tickets at face value at £75 per ticket.
"It's an inconvenience for me and for other fans, especially if they show up not knowing that their ticket is invalid, so I feel that is unfair on the fans."
Katie says she will be £150 out of pocket after paying for two tickets.
"I totally agree with what Ed is trying to achieve, I just think him and other artists should be targeting Viagogo direct.
"Because the way it is going just now it is just affecting the fans."
Ed Sheeran told affected fans they are legally able to get a refund from secondary ticket sites, and his manager Stuart Galbraith said they would help people get their money back.
Journalist Mark McGivern has spearheaded the Daily Record's Stub Out The Touts campaign. He told BBC Radio Scotland's John Beattie programme: "If you had to make a choice between trusting Viagogo or trusting Ed Sheeran, I would say trust Ed Sheeran because he is bending over backwards to represent fans and give them value and stop them being ripped off systematically by Viagogo and other sites."
The journalist believes Sheeran is leading "a real fans' charter" and says anyone who has an invalid ticket should certainly get their money back from Viagogo.
He said: "They definitely have a legal case they would win in any court. I am informed today the refunds have been flooding in and the refunds on this tour could amount to £1m and a lot of that has already been paid.
"However, in the last couple of days Viagogo have taken a new tack. They have put the burden of chasing onto the consumer, saying customers are going to have to prove that they didn't get into the gig and that they didn't subsequently get into the gig by some other means, which is absolutely nothing to do with the contract that Viagogo set with the people who bought the tickets."
Viagogo directed the BBC to the FAQ section of its website when asked for comment.
It says that it protests against concert promoters who deny entry to fans using resold tickets.
"These types of entry restrictions are highly unfair and in our view, unenforceable and illegal," it says.