Family wants fishing boat Speedwell raised from seabed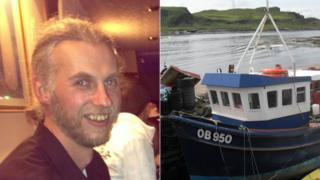 The family of a fisherman who died when his boat sank off Argyll five years ago have called for the wreck to be raised.
Scott MacAlister's body has never been recovered from the creel boat that went down off Easdale Island in 2013.
His parents claim the wreck could reveal new evidence ahead of a fatal accident inquiry and called for government assistance.
The Scottish government said it regretted it was not possible to intervene in all such tragedies.
The Marine Accident Investigation Branch said the boat, Speedwell, probably sank as a result of water ingress through an unsealed deck hatch.
A report found that safety checks weren't carried out by the boat's owner and that lifesaving equipment was out of date and unserviced.
But the MacAlister family claim the authorities' reluctance to raise the boat will undermine the outcome of a Fatal Accident Inquiry (FAI) into the 40-year-old's death, which is due to start on Monday.
Scott's father, Peter - himself a retired fisherman - believes raising the boat might finally provide conclusive answers to why the boat sank in seconds about five minutes away from harbour.
He said: "It would certainly prove to the FAI what has actually taken place. There might be more than we've been able to find out in the last five years.
"I think if they raised the boat they are going to know this.
"All the authorities talk about safety. That's their job, future safety."
Rural Economy Secretary Fergus Ewing met the family this week, but again ruled out raising the boat.
'Double standards'
The MacAlister family have accused the Scottish government of double standards after it reportedly paid £1m recently to raise the larger Nancy Glen trawler, which went down in Loch Fyne with the loss of two lives.
Mr McAlister said: "This boat here is at 84 metres - nowhere near the depth that the Nancy Glen was. It's been treated as second class.
"We are absolutely in favour of the Nancy Glen being lifted - and rightly so. If a vehicle goes off a road into a loch and the driver is lost, every effort is made to lift that vehicle. Why is it different at sea? Why is is it different for fishermen?"
Mr McAlister says he will continue his campaign, and is hopeful the FAI will ask for the boat to be lifted.
A spokesman for the Scottish government said: "The Rural Economy Secretary Fergus Ewing met with the family of Mr MacAlister and passed on his sympathies that they have been unable to lay their loved one to rest.
"While fully empathising with the family's need for closure he reiterated that it is not possible for the Scottish government to intervene in every case where the sinking of a fishing vessel has resulted in the loss of life at sea, and encouraged the family to participate in the Fatal Accident Inquiry."