Star Wars ranked on screen time for women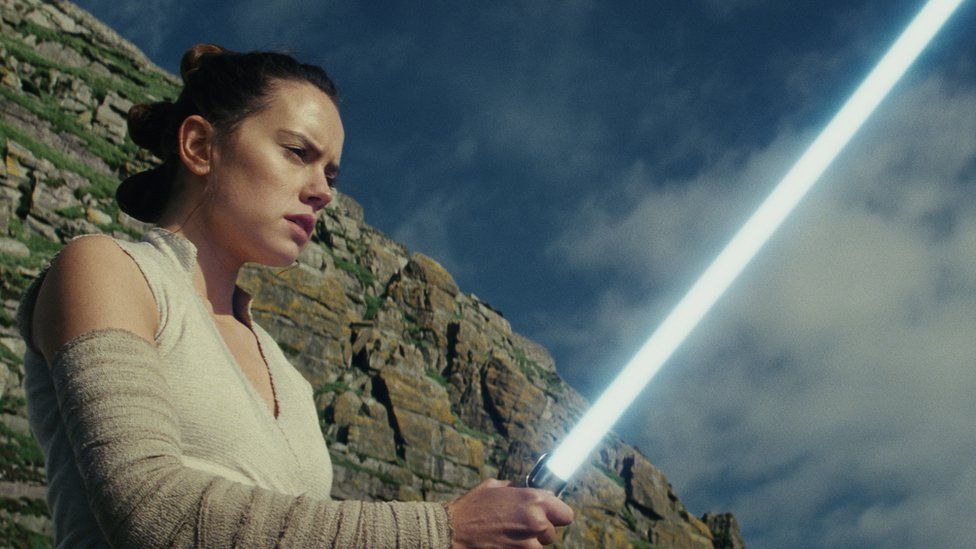 The Star Wars films have been re-cut by a Glasgow University academic to remove the men and rank the screen time of female characters.
Dr Rebecca Harrison found just 15% of time is devoted to women in the original 1977 film A New Hope.
Disney's recent releases fare better, with The Last Jedi on top at 43% of screen time.
Dr Harrison caused a stir with her findings on Twitter, but admitted she had some "negative comments".
I have FINALLY ranked all of #StarWars based on screen time for women. This is now canon. Don't @ me.

43% Last Jedi
37% Force Awakens
35% Rogue One
23% Return of the Jedi
22% Empire Strikes Back
20% Phantom Menace
18% Attack of the Clones
17% Revenge of the Sith
15% A New Hope

— Becca Harrison (@BeccaEHarrison) May 28, 2018
She said: "The response has been phenomenal. Initially it was shared among academics, but it blew up after it was retweeted by one of the Star Wars book authors.
"The comments have been largely very positive, from women and men, who say it's making them look at Star Wars in a different way.
"There have been some negative comments, which is what can happen when you're a women on the internet talking about Star Wars."
The rankings will form part of a book examining gender and race in the Star Wars franchise.
Dr Harrison is a feminist writer and lecturer at the university's Film and Television Studies department.
She created her "no men" versions of the films as "a bit of fun" in reaction to a fan edit of The Last Jedi released on the internet.
A disgruntled male fan re-cut Rian Johnson's 2017 film to remove all the female characters, in protest at its prominent roles for women.
Dr Harrison spent 48 hours in total analysing screen time for female humans, droids and creatures in the films.
Women appearing as background characters or set-dressing don't make the cut.
She said: "I only counted women with speaking parts, because having the ability to contribute to the story, and not serving as a visual object is important.
"When men are speaking and a woman is on screen, I've made a value judgement about whether she's central to the action at that moment in the story."
While recent Star Wars films have improved screen time for female roles, Dr Harrison says they still struggle to pass the "Bechdel test".
This test requires a film to include at least two women, who talk to each other about something other than a man.
She added: "The Star Wars franchise still has some way to go."