Former rugby pro Steve Begley 'left drowning'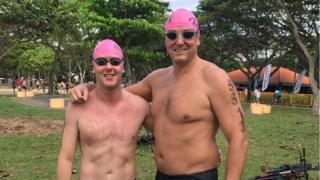 A former professional rugby player was left drowning for 20 minutes before he was pulled from the water during a triathlon, an inquest has heard.
Steve Begley, who played for Glasgow Hawks and Glasgow Accies in the 1990s, died during the Singapore Triathlon relay last September.
His family claim the closest lifeguard on duty was elsewhere, attending another injured competitor.
An inquest in Singapore has been looking into the death.
Mr Begley's death was the second fatality at the triathlon in eight years. Calvin Lee, who was also 42, died during the swim leg of the event in 2009.
Now Mr Begley's family are calling for improved safety procedures at the event so others don't have to go through a similar ordeal.
His partner, Vanessa Raymundo, told BBC Radio Scotland's John Beattie programme that she watched his swim from the shoreline.
She has video footage of him running out of the water, and then returning for the second lap.
His body was found about 200m from the shore. He had suffered heart failure.
She believes participants should be subject to stringent health checks to uncover previously undetected medical problems before taking part in the triathlon.
And she has raised questions over the number of lifeguards patrolling the water during the event.
"Was the safety detail deployed actually adequate to cover the area and the number of athletes that are in the water during that time?" she said.
"From the CCTV footage it doesn't seem that the lifeguard had the capacity to cover two zones during the time the other lifeguard was going back to shore, assisting another participant.
"As to whether it would make a difference if Steve was found sooner, we will never know."
His brother Matt Begley said he was angry about the way the family has been treated since his death.
Matt said they have had little response to questions they have put to police, race organiser Triathlon Singapore and Sport Singapore.
He has data from his brother's Garmin sports watch which shows his strokes slow dramatically shortly after he returned to the water for a second lap
Matt said: "He was in that water, in my opinion, for far too long, before he received any attendance and that can be clearly demonstrated by the time lapses and the delay that the Garmin evidence shows."
The family said they did not want to apportion blame for Mr Begley's death, but they want to prevent similar tragedies in the future.
Ms Raymundo said: "When it's a sporting event of this calibre, so many participants, they should really have the most adequate safety procedures in place.
"Because they always say the safety of the athletes is the most important - well they should back that up with adequate safety detail and safety procedures.
"All we want is to be able to prevent or minimise the probability of this happening to another athlete."
Matt Begley added: "What I am after achieving through all of this is that no one else has to receive a phone call on Sunday morning at 05:00 UK time, and they're having to pick the phone to their parents and deliver the message that I had to deliver on that fateful day.
"I'm not after laying blame at anyone's door but can we learn from this and do something about it? So someone else doesn't have to go through the same thing, or the family doesn't have to go through the same thing?"
Triathlon Singapore has been asked for a statement but it has not replied to the BBC's inquiry.