Glasgow Harbour developer to pay for replacement cladding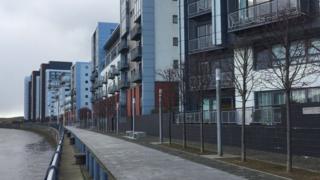 A housing developer has agreed to pay for replacement cladding after a survey found flats in Glasgow had similar cladding to that at Grenfell Tower.
Taylor Wimpey will replace aluminium composite material cladding found at 300 properties at Glasgow Harbour.
Residents had faced a bill of up to £30,000 following confirmation that their cladding was not flame retardant.
A national fire safety review of tall buildings was established after 71 people died in the Grenfell tower fire.
The Scottish government's fire safety review of aluminium composite material (ACM) confirmed the presence of the material.
After further tests, fire wardens were employed to patrol the Glasgow harbour buildings.
"Cause for concern"
A Taylor Wimpey spokesperson said: "While the ACM cladding met the technical standards relevant at the time of the building warrant application, we agree that it needs to be replaced.
"The particular circumstances at Glasgow Harbour have resulted in a significant cause for concern for residents.
"As a responsible house builder, Taylor Wimpey will also cover the cost of these works."
The replacement cladding and associated remedial of the external wall system will bring it into line with the current fire safety requirements of building standards.
A Glasgow City Council spokesperson said: "It is very welcome that Taylor Wimpey have agreed to fund this work.
"The council has worked to ensure that residents were able to stay in their properties and has brought partners together to find a solution.
"As Taylor Wimpey and the owners work together to agree a methodology and timescales to replace the cladding, we will continue to work in partnership and give them all the support they need."