Bogus worker jailed for attack on OAP couple in home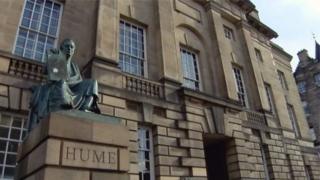 A bogus water board worker has been jailed after terrorising a couple in their own home in East Dunbartonshire.
Andrew Beech, 25, travelled from Sheffield with two unknown accomplices to the pensioners' home in Bearsden.
They forced entry to the property in September last year and demanded £20,000.
The men were caught when they left behind cable ties they had brought to restrain Alastair and Margaret Sutcliffe.
Detectives found enough evidence to link Beech to the crime.
He was convicted of the assault and robbery following proceedings at the High Court in Glasgow earlier this month.
Daughter unaware
Sentence was deferred for reports to the High Court in Edinburgh which heard that Beech did not want his four-year-old daughter to know he was in jail.
Defence advocate Allan Macleod said: "His four-year-old daughter is unaware that her father is in custody. She thinks he is at work.
"He describes it as difficult. He doesn't want his daughter to become aware of the situation."
However, Lord Ericht told Beech that jail was the only option.
At proceedings last month, the court heard how Beech and two others went to the house in Bearsden.
The court heard that Mr Sutcliffe, 79, answered the door at 10.50 to Beech who was wearing a hi-vis jacket and said he needed to test their water.
When Mr Sutcliffe went to the bathroom to turn on the taps, Beech and his accomplices barged into their home.
'Jumped on'
They assaulted Mr Sutcliffe and his wife Margaret, 76, restrained them and ransacked the house, before leaving with a few hundred pounds in cash.
The court heard that during the violent incident Mr Sutcliffe was thrown onto the floor, jumped on and pressed so hard into the hallway carpet that he could not move.
Mrs Sutcliffe was grabbed from behind in the dining room, pulled on to a chair and restrained. Her attacker put a gloved hand over her face and pulled her head back forcefully.
Prosecutor Jane Farquharson said: "The couple's descriptions were of a terrifying and fast-moving incident where both were restrained from behind and threatened to ensure their silence and immobility."
On Friday, Lord Ericht said jail was the only sentence available to him.
He added: "For the sake of a few hundred pounds you launched a criminal enterprise from Sheffield.
"It was a carefully planned robbery against an elderly couple in their own home. The sentence will be one of three years."