The little girl who can't enjoy the summer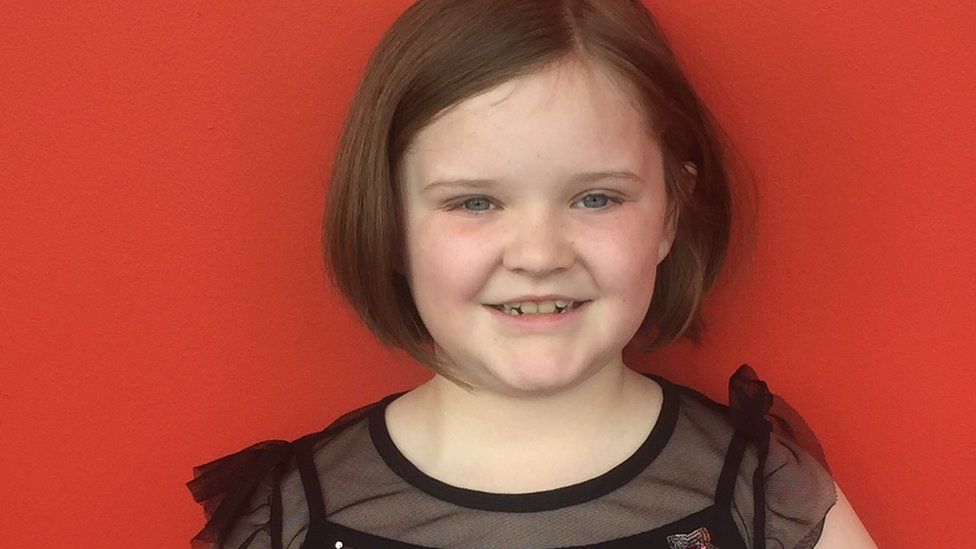 An incurable lung condition means a seven-year-old girl may never be able to enjoy the summer.
Harper Mitchell Hyslop is the only person in the UK, and possibly in Europe, who suffers from a particular type of children's interstitial lung disease (chILD).
Sunny weather makes her ill as her body overheats and leaves her "panting like a dog".
Harper carries oxygen in a suitcase and family holidays are ruled out.
Harper, from Balloch in Dunbartonshire, became ill when she was five years old.
Parents Jodie and John watched for eight weeks as Harper's flu-like symptoms were misdiagnosed as a virus.
She deteriorated until her mum took her to hospital - a move she believes saved her life.
"I knew it was more than a virus.
"She was admitted to hospital. She had pneumonia, then severe pneumonia, and I then I saw the X-Ray results of her lungs.
"If we hadn't gone at that time Harper wouldn't be sitting with us now."
Harper's condition is so rare it does not have a name. She was formally diagnosed in 2016 but was told she had had the condition for at least two years.
ChILD is an umbrella name for a group of rare lung diseases that cause a lack of oxygen in the blood.
The interstitial tissues are inflamed meaning Harper has difficulty passing oxygen.
When she was first diagnosed, Harper had to carry an oxygen canister around on a trolley all day.
She then started taking liquid oxygen from a backpack.
She goes back to that if her oxygen levels are low or if she is suffering from a cold.
At the moment Harper is trialling being off her oxygen during the day but at night she is connected to a concentrator box by a cannula.
Her parents have to check on her through the night to make sure the cable is not wrapped around her neck.
There is no cure and Harper will always have the condition.
Jodie fears what may happen as Harper grows. In the future she may have to go back onto her oxygen 24 hours a day.
Harper also cannot be in high temperatures.
The family have not had a holiday abroad since she was diagnosed.
Harper said: "I just feel different from my friends because I have it.
"When I was in Spain with my mum and dad we had an ice cream and a few minutes later I was sick."
Harper must be one of the few schoolchildren not looking forward to the summer.
Jodie explained: "The temperature affects her lungs. Even here last year when the temperatures rose it affected Harper.
"She was not as active. She can't be given ice cream because it makes her violently sick, she gets anxiety attacks because of the way she feels.
"With the heat inside her body with the inflammation, ice cream curdles. She has to stop and rest and can't play with her friends.
"We can't take our oxygen abroad so we would have to source it and there's always that element of doubt."
But the lack of holidays aside, Jodie is just grateful Harper is here and battling her condition.
She said: "I had never heard of chILD and I thought the worst - when I looked online it was grave because it said ultimately the disease means death.
"Some children are born with it and it can result in death but we don't know that about Harper. We don't know how she got it.
"She has had about 100 tests. Two years after she was diagnosed we still don't know how she got it, we are no further forward."
Harper is determined to keep fighting. She loves dancing and raises money for the chILD Foundation which supports sufferers of the disease.
Jodie won't let anything stop her girl: "I want Harper to live a fulfilled life like any other child growing up.
"If that means doing things slightly different so it can accommodate her needs, that is what will need to be done."
Related Internet Links
The BBC is not responsible for the content of external sites.