Former Territorial Army officer jailed for two rapes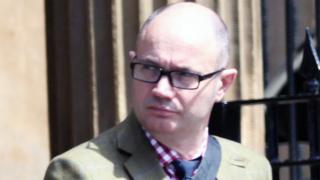 A former Territorial Army officer has been jailed for eight years for the rape of two women he met on dating site match.com.
Ex-lieutenant colonel Philip Donegan, 50, from Knightswood, Glasgow, raped a 33-year-old woman in her Paisley home and a 30-year-old woman at his home.
He was also found guilty of stalking the 33-year-old following the rape.
Donegan was also a former tax lecturer at Strathclyde University.
The High Court in Glasgow heard that the rape of the 33-year-old happened in October 2016.
The victim told jurors that while Donegan raped her, she was "squirming" and added: "I told him various times I didn't like it and asked him to stop."
Unwanted texts
After the rape, between 13 October and 6 November 2016, he bombarded the woman with unwanted texts, phone calls and threatened to send an indecent photograph of her to her boss.
Referring to the threat to send the photo, he said: "It wasn't intended as a threat, it was an ill-advised wind-up, a joke in poor taste."
On one occasion, he left a plastic bag with a card from him and a lip balm which she had dropped in a supermarket. This was placed on her front door while she was at home.
The woman said: "I was so upset that I went into a complete meltdown."
Prosecutor Sheena Fraser said: "What you did was stalking," and Donegan replied: "It wasn't my intention, but I accept she may have been anxious about the situation."
Donegan, who also worked as a tax adviser with law firm Tods Murray, raped the other woman on 28 July 2017.
She went to the police after becoming distressed while watching an attempted rape scene in Braveheart.
She told the jury: "I was so upset I phoned my former husband and said: 'I've been raped.'"
She told Ms Fraser that initially the sex between them was consensual but then said it was painful and she had asked Donegan to stop.
'Chaotic offending'
Ms Fraser asked the woman: "Did you make clear you wanted him to stop," and she replied: "Absolutely."
Donegan claimed that sex with both women was consensual.
Ms Fraser told the jury: "In both cases after the rapes the accused acted as if nothing was wrong, but afterwards apologised to the women."
At the sentencing hearing, defence counsel Joe Barr said: "Mr Donegan does not accept his guilt.
"He is someone who has certainly undergone some form of mid or later-life crises resulting in developing this chaotic offending."
Passing sentence, judge Norman Ritchie QC said Donegan presented a "high risk of further sexual offending" and he went online "to get women for sex".
He said: "Your efforts there lead you to these two women, who if not vulnerable had a degree of vulnerability about them.
"It was their misfortune to meet you and I commend their courage in coming forward and giving evidence, it's not easy."
The judge added: "It's plain you are a man who does not take no for an answer. No means no."
Donegan was jailed for eight years and will be supervised in the community for a further four years after his release.