Glasgow hosts 'live graffiti' street art festival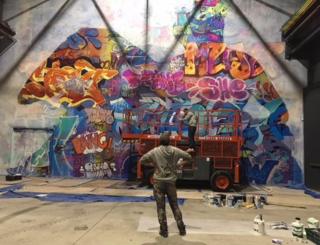 More than 120 graffiti artists from around the world are in Glasgow this weekend to take part in a festival dedicated to street art.
Yardworks 2018 is taking place at the SWG3 arts venue.
More than 1,000m of wall space will be transformed into a live canvas as part of the two-day event.
The central focus of the weekend's event will be the creation of a large-scale mural, by world renowned Spanish street art duo PichiAvo.
They will transform a 50ft high wall inside the SWG3 complex, which will then be open to the public until September.
Avo, one half of the duo, told BBC Scotland that their artwork is inspired by classical paintings.
"We try to give another view of what we see in the streets and mixing all the things we know," he said.
"We came from graffiti, we know what graffiti is about, and we love classical art and we love art, so why not give another version of graffiti."
SWG3's studio director and resident graffiti artist, Gaz Mac, said: "In recent years, Glasgow has become a major player in the UK street art scene. The city boasts over 100 artists, but - ironically - offers little legal space for artists to practise their skills. That's where Yardworks comes in.
"Not only are we offering a legal canvas for local artists, but we're bringing the wider international community together to share and showcase their skills."
As well as live art, the event will feature a number of graffiti workshops, an artist maze, creative stations for kids, face painting, a pop-up art store, as well as street food vans and craft beer bars.