Glasgow bus crash passengers to sue operator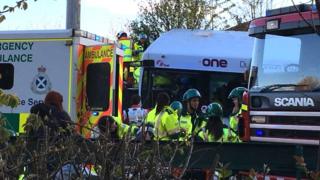 Seven passengers involved in a bus crash in Glasgow last month are suing the operator First Bus.
The bus crashed on a sliproad to the Clydeside Expressway, near the Clyde Tunnel on 29 April, resulting in 29 people needing hospital treatment.
The bus is believed to have struck a barrier before mounting an embankment and overturning.
The driver was one of three people who were in a serious condition in hospital.
Former bus driver Sylvia Barr, who was driving in her car behind the bus with her children, was one of those who helped at the scene.
She described the scene inside the bus as "carnage".