Skipness death crash pilot was not qualified for conditions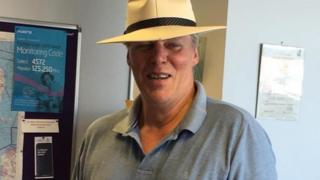 A pilot who died with a friend in a light aircraft crash was flying in conditions he was not qualified for, an air accident investigation has found.
Anthony Woodward, 62, and Robert Archer, 57, died when their plane crashed into the sea in thick fog.
The Air Accidents Investigation Branch (AAIB) found that Mr Woodward had not completed the required training to fly in visibility below 1,500m.
The crash happened off Skipness, on the Kintyre peninsula, on 25 May last year.
Mr Woodward and Mr Archer, who were both from Surrey, had flown from Carlisle Lake District Airport to Oban on 20 May and, along with another friend Peter Ogilvie, had completed an ascent of Ben Nevis for charity.
Mr Ogilvie had written about their nine-and-a-half-hour climb, saying the team were "hugely proud" of their achievement to raise more than £2,000 for the Shooting Star Chase children's charity.
During the return flight to Carlisle, air traffic controllers raised the alarm after communication with the chartered Piper PA-28 Cherokee aircraft stopped.
Floating wreckage and the bodies of the two men were later recovered from the sea. There were no lifejackets on the plane.
The AAIB report said the aircraft had flown into an area of low cloud, fog and mist.
The friends had been due to fly back to Carlisle the day before but the weather conditions were not deemed to be suitable.
Mr Woodward had also delayed his departure on the day of the crash due to the conditions but took off when the weather had improved.
The report noted that two ferries operating in the vicinity of the accident site suspended services that day due to poor visibility.
The AAIB reported that Mr Woodward "might not have been aware of how poor the conditions had become" due to the gradual reduction in visibility.
"Flying in such conditions would have markedly increased the pilot's workload and stress while reducing his capacity to make decisions," the report concluded.