Drivers could face £20 fines for needless engine idling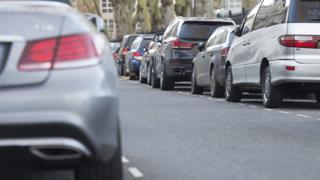 Motorists who keep their engines idling in one Scottish council area could soon face a £20 fine.
Inverclyde Council has agreed to ask the Scottish government for permission to issue fixed penalty notices to offending drivers.
The move followed a spate of complaints to the local authority over the last six months.
Should the council's application be successful a publicity campaign will follow to inform the public of changes.
The Road Traffic (Vehicle Emissions) (Fixed Penalty) (Scotland) Regulations 2003 allows councils to apply to the government to tackle problems with engine fumes running "unnecessarily".
School buses
Martin McNab, head of environmental and public protection, explained to the education and communities committee: "In the past few months we've had an increase in complaints concerning idling vehicles in various locations.
"Up to this date, we've dealt with them informally but if we want to take action with fixed penalty fines we need this committee's approval to go to Scottish ministers."
Councillor Lynne Quinn said she had received complaints about buses idling outside schools.
She added: "It should be tied into school bus contracts so they don't idle near school grounds."
Mr McNab said existing council staff would be able to issue fixed penalty notices and insisted the main aim was to deter bad driver behaviour.
He added: "To be perfectly honest, there's not going to be vast numbers of FPNs issued here and at £20 a pop we're not going to make much money from it."