Teenage sex attacker jailed and branded 'a danger to women'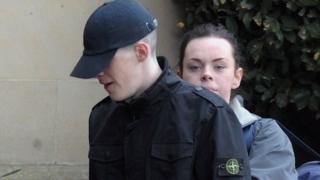 A judge has branded a teenage sex attacker who tried to rape two joggers in Glasgow "a danger to women".
Calvin Higgins used a knife to threaten one of the women he intended to abuse on a secluded canal path in Maryhill in March last year.
The 19-year-old has been sentenced to six years for the attempted rape of two women and the assault of a third.
Higgins claimed he wanted to steal from them to buy a birthday present for his girlfriend.
Judge Lord Mulholland told Higgins: "You armed yourself with a knife and lay in wait in a quiet place for women to approach.
"You attacked three women - one of whom you presented a knife at. You said in evidence your intention was to rob these women. None of these women spoke of you attempting to remove their property. In respect of two out of the three women, the jury returned a verdict that it was your intention to rape them.
"You are a danger to women."
Lord Mulholland ordered Higgins, who is assessed as a high risk of re-offending, to be on licence for three years after his release from detention.
The teenager, from Thornliebank, pounced on the female joggers after lying in wait on a canal path near student halls.
Higgins confronted the first victim and brandished a blade at her.
He ordered her to go with him to an even more secluded embankment area nearby.
The court heard the young woman was "hyperventilating" with fear.
She managed to escape, but Higgins went on to carry out a further sex attack on another runner.
He punched the petrified woman and tried to push her into bushes. The victim's blood ended up on his sleeve.
He struggled with her, but she also managed to escape.
'Self-protection'
The third attack involved Higgins approaching a woman from behind and trying to grab her.
Higgins admitted he stood on a bridge near the canal and waited for a woman jogger going past.
Solicitor advocate Brian Fitzpatrick asked why he was armed with a knife and Higgins replied: "A lot of people my age have a knife. It is self-protection because I am scared."
He claimed he was "ashamed" of attacking the women, but denied the crimes were of a "sexual nature".
Higgins was also found guilty of having a knife and resisting arrest.
Mr Fitzpatrick said: "This is a troubled young man. He had a disruptive childhood and disrupted education."
Higgins was also placed on the sex offenders register.