'People stared and laughed and I don't want others to go through that'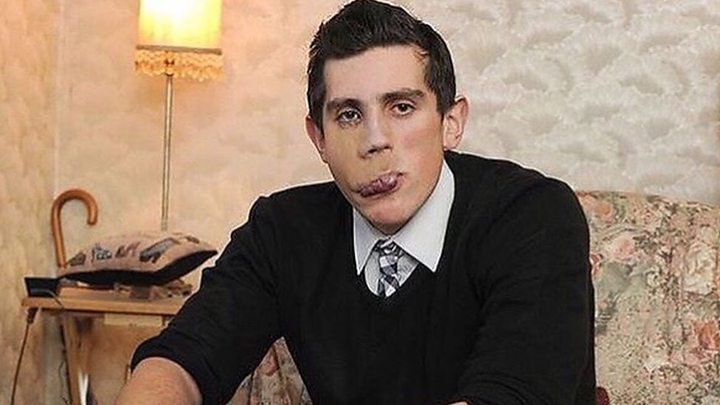 A young man who was bullied over his appearance is using his terrible experience to help others avoid it.
Rory McGuire's birthmark saw him tormented and abused from an early age and despite surviving more than 20 operations, the abuse he has endured has been far more damaging and painful.
The 24-year-old is now fronting a campaign to encourage victims of abuse over facial differences to report these hate crimes to police.
He says any hate crime is unacceptable.
At the age of six, Rory felt he was "different".
The vascular birthmark which covered his lip earned abuse from an early age.
Despite countless bouts of surgery to correct it, the abuse meant that at one point he hoped that he wouldn't wake up from the operating table.
He had accepted that nothing would change.
He told BBC Radio Scotland's Kaye Adams Programme: "It was at its worst point in my late teens, I said to myself: 'This is it - this is how life is going to be and I just have to deal with it.'
"It was heartbreaking. I thought I would just have to deal with comments, stares and laughs for the rest of my life.
"My close friends didn't realise the extent of it. My mum and dad saw it affecting my confidence but there were a lot of things I didn't tell them.
"Anywhere I went in public I knew I was going to get stares or laughs or comments and I heard people turning to their friends and saying things and it was just constant."
It was only after countless corrective surgeries and from blogging his experience of relentless abuse that Rory gained enough confidence to stand up and try to prevent anyone else from feeling the same.
Rory, from Ayr, supports the Changing Faces campaign for those with facial disfigurement to report abuse as a hate crime.
He said: "I am happy to be the face of a campaign that is all about making a difference and stop other people having the experience I had when I was younger.
"If I can help as many people as I can then that is my goal.
"For me, none of it is acceptable and if someone is being put down to the point they just can't cope with it any more then they should feel there is help out there."
Rory tells heartbreaking stories of being frequently laughed at, mocked and stared at as a child and into his teens.
He says people thought it was okay to call him awful names and compare him to film and TV characters.
He recalls being cornered by a group of people who would compete to see who could call him the most offensive names.
He suffered the double whammy of being left out when other children didn't want him to be a part of something and missing out because he was too shy to try to become involved with other children.
'Motivated by malice'
Now he is encouraging everyone to stand up to hate crimes.
"It is absolutely unacceptable that people have to go through prejudice for reasons that are outwith their control. I want to promote the fact they can be reported and you can get help for them rather than bottling up these feelings which can be hard to deal with."
A survey by Changing Faces of 800 people with a disfigurement found that a third had been a victim of a hate crime because of how they look, but hardly any of them reported it to police.
The charity's Rob Murray said: "We found out part of the reason was a lack of faith in the police, and resources. People see it as part of life."
Insp Claire Miller from Police Scotland said: "Hate crime is any crime which is perceived by the victim or any other person to be motivated by malice and ill will towards a social group.
"It can be vandalism, anti-social behaviour or physical assault and none of those should be tolerated.
"We take hate crime very seriously. Victims or witnesses of hate crime should report it to us."