ScotRail under fire over performance failings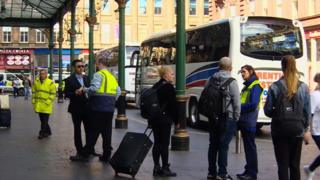 After a weekend of disruption for passengers at Glasgow's Central Station, it has emerged ScotRail missed most of its latest performance targets.
Damage to overhead lines saw passengers stranded on trains for several hours on Saturday as dozens of services were cancelled and the station was closed.
It has now emerged ScotRail missed performance targets in 22 out of 34 areas in the first months of 2018.
The company said it would keep improving its level of service.
Separately, an independent watchdog survey has named Glasgow Queen Street - also operated by Abellio ScotRail - as Britain's most unpopular station, although Glasgow Central ranked well, making into the top 10.
Transport Scotland measures ScotRail's performance through quarterly figures called the Service Quality Incentive Regime (Squire).
The Squire figures are linked to financial penalties for failing to meet benchmarks.
ScotRail previously claimed it had signed up to what it called the "toughest service quality regime in the UK" and that they were "not fines", as "the money gets put back into Scotland's railways".
The Scottish government confirmed that the firm had accumulated a record £1.6m in financial penalties over the last three months - nearly £400,000 more than in the previous three months.
Latest figures published on 4 May showed ScotRail failed to hit key targets in numerous areas including litter and contamination, train seats, refreshments, food, help points, telephones, ticket machines, train and station toilets, cleanliness, taxi ranks and car parks.
One of the biggest dips in performance came in station CCTV, which at 77.8% was short of the 95% benchmark.
There is an ongoing union dispute over a cut in the number of CCTV monitoring staff with a planned strike on 19 May - the day of the Scottish Cup Final..
Abellio ScotRail posted a profit of £9.5m in 2015 and a loss of £3.37m in 2016.
ScotRail said it had identified 10 priority areas and has developed detailed plans to address the top issues which lead to Squire failures. The company said this has led to improvements in on-train ticket inspections and booking office opening times.
A spokesperson said: "These are not fines - it's a reinvestment fund that drives standards even higher, and every penny raised through the fund gets put back into enhancing Scotland's railway.
"We have developed detailed plans to keep improving the high level of service our customers quite rightly expect."
A Transport Scotland spokesman said: "The Squire regime, the toughest of its kind in the UK, is a fundamental part of our efforts to improve the passenger experience. This level of penalties is disappointing, especially in comparison to the corresponding quarter in 2016/17.
"We have robustly challenged ScotRail on the issues which are contributing towards, not only the Squire performance but the non-delivery of the fundamental expectation of staffed stations and trains. 
"As a result ScotRail has committed to two reviews, one on staffing/recruitment and the other to produce a recovery plan to focus on more effective methods to resolve and repair faults.
"All penalties accrued are reinvested in the franchise through improvements to the Scottish Rail Network."
Glasgow Central station's high level was closed completely at 22:45 on Saturday after 10 trains travelling on high level routes lost power at around 21:15..
Passengers stranded on affected services were helped off trains by staff, with all customers off the trains by 12:45 on Sunday.
Disruption continued into Sunday afternoon. Train lines re-opened at 13:00 but ScotRail said some routes were winding down early to allow for essential repairs to be carried out.
Robert Samson, spokesman for Transport Focus, told BBC Scotland's Good Morning Scotland programme: "It was a major disruption. It is good that the services are back to normal today.
"But there has to be a review of the way communications to passengers were handled over the weekend.
"Overhead lines do come down but passengers were trapped on a train for two to three hours. Glasgow Central station last night was closed for a time.
"At that time of night it was difficult to get replacement buses for the number of services that were cancelled.
"I think there has to be a review to see how it was handled but I believe they did their best under difficult circumstances but a lot of people would have been inconvenienced."
It comes as Glasgow Queen Street was named Britain's most unpopular railway station in a survey of passengers.
Independent watchdog Transport Focus took the views of more than 28,000 people at 56 stations for its ranking.
Only 58% of travellers were "satisfied" with Queen Street, Scotland's third busiest station. But nearby Glasgow Central made the top 10 with a 91% approval rating.