ScotRail apologises for Glasgow Central train disruption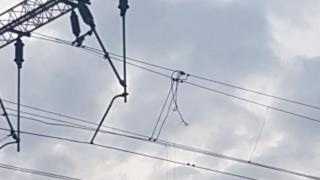 ScotRail has apologised for major disruption after severe damage to overhead wires just outside Glasgow Central station.
Services to and from the station's high level were affected.
Ten trains travelling on high level routes lost power at about 21:15 on Saturday and passengers had to wait to be led to safety by ScotRail staff.
The train company said it was now almost back to running a full service, after knock-on disruption on Sunday.
Some passengers, commenting on social media, said that they had been stuck on trains for several hours on Saturday night and had to be helped off by engineers with ladders.
ScotRail said all passengers were removed from the affected trains by 00:45.
They were then advised to find alternative transport home, with some offered taxis.
Glasgow Central high level was closed completely at 22:45 with no services running for the remainder of Saturday evening.
A ScotRail Alliance spokesman said: "We apologise to anyone affected by the disruption caused by severe damage to the overhead wires at Glasgow Central last night. Our engineers are working as quickly as possible to reopen the line.
"To keep people moving, we've arranged replacement buses and customers with valid train tickets can travel on First Glasgow and McGills bus services along the affected routes.
"Customers can keep up to date with the latest travel info by following us on Twitter @ScotRail, on our mobile app and website. We urge customers to check your journey before you travel as some disruption is likely for the rest of the day."