Woman, 81, seriously injured in Greenock bag snatch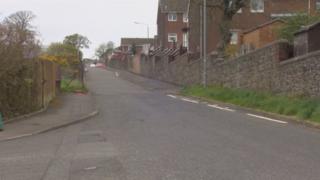 A woman is seriously injured in hospital after she fell and hit her head as she was robbed in Greenock.
The 81-year-old victim had just got off a bus in Auchneagh Road when a man grabbed her handbag, causing her to fall to the ground and hit her head.
She was taken to Inverclyde Royal Infirmary where she remains in a serious condition.
Police are investigating and have appealed for information on the "despicable" incident.
The robbery took place at about 14:00 on Friday after the victim got off a number 517 bus.
Officers located the woman's bag a short distance away. The suspect is described as white with red hair. He was wearing a light top with dark sleeves and dark trousers.
Det Sgt Ross MacDonald said: "Clearly the person who did this has no conscience, their actions are despicable.
"An elderly woman was going about her day when her bag was pulled with such force that it caused her to fall and hit her head.
"I am appealing to members of the local community and to people who were on the 517 bus, was this man on the bus, did he follow the lady off the bus? Did you see him? I am asking anyone who was in the area at the time to think back and consider if they noticed or saw something which could assist us tracing the suspect."