Stalker ordered to stay away from Glasgow City Council leader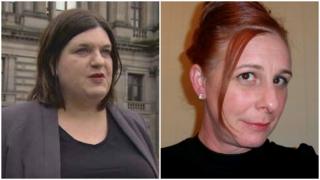 A stalker who sent a "death threat" to the leader of Glasgow City Council has been ordered to stay away from her.
Amanda McCutcheon, 46, targeted Susan Aitken over a three-month period between January and March this year.
The mother-of-two sent Ms Aitken a letter with the phrase "I was wondering if you have a death wish".
McCutcheon was also ordered to perform 200 hours' unpaid work in the community and was placed on a curfew after being found guilty at Glasgow Sheriff Court.
As well as the "death threat", McCutcheon posted comments on social media describing Ms Aitken as "psycho Susan".
She also told a social worker and police that she was going to attack her.
Ms Aitken said when she was shown the letter she was disturbed and added: " I was taken aback, it wasn't like any letter that I received before. It was definitely an implicit threat."
The letter from McCutcheon referred to problems she had with her home.
The court heard that McCutcheon, from Dennistoun, also visited Glasgow City Chambers in February and shouted and swore at staff there.
Sheriff Lindsay Wood said: "This was a deliberate campaign against Susan Aitken. I don't think against her personally, but in her capacity as Glasgow City Council leader."