Campaign aims to keep pub staff safe after late shifts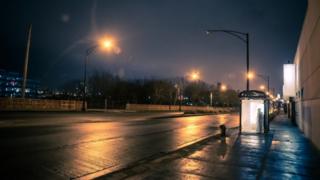 A campaign to get hospitality staff home safely after late shifts could lead to a change in the law.
The Safe Home Initiative wants stricter licensing regulations to make pub owners take responsibility for staff.
Those behind it said they should be made to prove they have considered staff safety - including transport home - when they apply for a license.
One pub worker told BBC Scotland she was sexually assaulted during a shift then had to make her own way home.
Speaking on The Stephen Jardine radio programme, Kellianne O'Reilly, from Shawlands in Glasgow, said she often felt unsafe as she waited for a bus alone in the early hours of the morning after finishing her shift.
She said that after one incident when she was sexually assaulted at work, she finished her shift in the early hours then stood alone at a bus stop in the dark.
'I was in bits'
"I felt vulnerable," she said.
"No consideration was ever given to how staff were getting home.
"We had been issued with new uniforms which were tartan mini skirts and knee high socks. One night I was collecting glasses when a guy came up behind me and put his hand up my skirt.
"Security wanted to put him out, but the manager came over and put a stop to that straight away. I was in bits, you do not expect to be sexually assaulted while you do your job."
There was no policy in place to help Kellianne get home so she was forced to wait in a dark bus stop, frightened and alone.
She added: "After midnight it is only the night bus that is on, so you are out there waiting for a bus for half an hour at least, in a mini skirt and with all your belongings with you.
"When you work in bars, it is a minimum wage job. You cannot afford to pay two hours of your wage on a taxi home. So you have no other option."
Young pub workers met with politicians at Holyrood earlier this week to tell them why the believe a change is vital.
'Stalking and violence'
Clare Galloway, from the Safe Home Initiative, which is part of STUC campaign Better Than Zero, says Kellianne's story just scratches the surface of the problem.
She said: "The stories we are hearing are terrifying.
"We have heard about incidents of stalking and violence.
"The general consensus is that most hospitality or fast food workers are travelling after midnight. Some of them can't get a bus because there isn't one, there are no trains, and due to the minimum pay rate, they cannot afford a taxi.
"This is not just targeted at females either, we have heard stories of extreme violence that males have experienced on their way home from work."
The campaign wants employers to take more responsibility to safeguard staff and Clare says they will take the fight to Westminster if they have to.
She added: "We want them to put a policy in place, maybe something in the licensing laws, something to ensure the safety of the workers.
"This is not all about taxis, it could be a buddy system or rota amendments to ensure staff get away in time to get home.
"As it stands some people don't have a choice but to walk home."
Benefit in kind
Paul Waterson, from the Scottish Licensed Trade Association, agreed things need to change.
In his own hotel in Stirling, he already provides taxis for staff working late at night or very early in the morning.
But he says a grey area in tax rules about benefits in kind could mean employees end up out of pocket if they accept a taxi home.
He said: "It's not as cut and dry as telling employers to do this because of the tax implications of a benefit in kind.
"But we have to all work together to find a solution. No matter the cost or no matter how difficult it is, we have got to try and make sure our staff are getting home safe at night."
A Scottish government spokesman said: "Better than Zero was an excellent opportunity for us to meet workers and send out a strong message that exploitation through zero-hours contracts, unpaid trial shifts and workplace discrimination are not welcome in Scotland.
"While employment law is reserved, we are encouraging employers to offer fairer flexible contracts that offer job security and we continue to press the UK government for more devolved powers so we can better protect our workers' rights and wellbeing."