Virgin Media moves 220 jobs from Wales to Scotland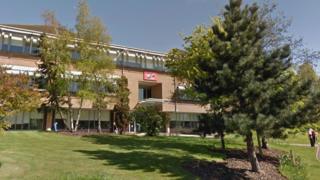 Virgin Media has announced that 220 jobs will be relocated from Wales to Scotland.
In a major restructuring, the telecoms giant is to axe 800 jobs at its call centre in Swansea.
The company plans to cut the number of UK customer service bases from eight to four, centralising operations in Manchester.
The firm will consolidate its outsource partners into one "smaller, better" site in Bellshill.
Virgin Media offers fixed and mobile telephone, television and broadband services to homes and businesses.
'Increasing flexibility'
It already employs 295 customer service staff in Bellshill, North Lanarkshire.
Staff were told on Thursday that in July their jobs would transfer under Tupe (Transfer of Undertakings - Protection of Employment) to Sitel, meaning their terms and conditions are protected.
Scotland will become the primary outsource location for Virgin Media.
Further plans from the company state that about 370 Virgin Media staff from Bellshill will move to a new, smaller building on the same business park along with more than 150 staff who currently work in Uddingston and Renfrew.
Tom Mockridge, chief executive of Virgin Media, said: "Last year Virgin Media began a three-year property investment programme to create fewer, higher-quality work places to better support our people, our business and growing customer base.
"As a result, we plan to invest an additional £40m over the next three years to refurbish key sites and acquire new alternative sites. As part of this we intend to create four regional customer operations hubs while increasing the flexibility of our customer services resources.
"As a consequence, we have proposed the customer operations roles currently based at our Swansea site will transfer to either one of our partners or to a soon to be refurbished site at Wythenshawe near Manchester.
"The majority of the remaining roles will relocate to alternative sites across the UK. This means that our site in Swansea will close by the autumn of 2019."
He added: "We are now working with, and supporting, all employees who have been asked to relocate, who may be in a role at risk of redundancy or who may wish to take another role with Virgin Media or one of our partners."