Jury sent home for the day in Troon murder trial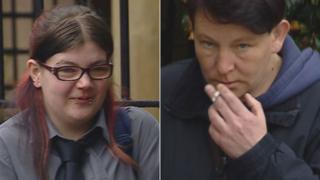 The jury in the case of a disabled woman who was allegedly murdered by her sister and daughter in her Ayrshire home has been sent home for the day.
Lynette Greenop and Shayla Greenop deny killing Sharon Greenop, 46, in 2016.
The jury of eight women and seven men had begun considering their verdict in the case on Thursday afternoon at the High Court in Glasgow.
Judge Lady Carmichael said the allegations were distressing and advised taking time over the outcome.
She also told the jury to consider only the evidence they heard in court and avoid any speculation or guesswork.
Lynnette Greenop, 40, and Shayla Greenop, 20, are accused of repeatedly assaulting and killing Ms Greenop.
The alleged crimes happened between September and November 2016 at the home they shared in Troon.
The women, who are both from Ayr, deny the accusations.