Electricity generation at nuclear plant to fall by 40% after cracks find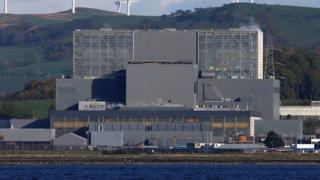 Electricity output from the Hunterston B nuclear power station could fall by 40% this year after dozens of cracks were discovered in one of the reactors.
The North Ayrshire power plant's director Colin Weir said it would be necessary to reduce generation.
But he insisted that Hunterston B, which is scheduled to be in operation until 2023, was still safe.
The company running the plant, EDF Energy, expects the damaged reactor to return to service by the end of 2018.
Speaking to BBC Radio Scotland's Good Morning Scotland programme, Mr Weir said the reduction in output comes after the "right and appropriate" decision was taken to put one of the reactors offline after a "slight increase" in the number of defects.
He explained: "Obviously this year we will be reduced in output - it will be around a 40% reduction in our planned output for this year - taking this decision, the right and appropriate safe decision to have the unit off while we do this assessment."
Hunterston B Power Station
Key facts
1976
The year it began operating
2023
The year it is due to stop operating
3 The number of reactor cracks in 2015

39 The number of reactor cracks in 2018
First Minister Nicola Sturgeon said she would seek "further assurance" on safety from EDF Energy when she meets its representatives later.
During First Minister's Questions at Holyrood she explained she had a long-standing scheduled meeting with bosses.
She told the chamber that the Scottish government was in regular contact with EDF Energy and the nuclear safety and security regulator, the Office for Nuclear Regulations.
In March this year a planned inspection of the graphite bricks that make up the core of Reactor 3 uncovered new "keyway root cracks".
These were found to be developing at a slightly higher rate than anticipated, operator EDF Energy revealed.
The reactor had been expected to restart a few weeks after it was taken offline, but that has now been delayed.
Operating for longer
Cracks were previously found in one of the reactors at the plant, which was opened in 1976, following routine inspections in 2014.
At the time, the Scottish government said the development was concerning, and asked for reassurances from nuclear regulators.
Hunterston B was originally planned to operate until 2011 but that has been extended and it could stay in operation for another five years.
Donald Urquhart, deputy chief nuclear inspector at the Office for Nuclear Regulation, said: "We welcome the decision by EDF to delay the return to service of reactor 3 at Hunterston B pending further assessment of the significance of the most recently identified keyway root cracks.
"I view EDF's decision as responsible, conservative, and made in the best interest of public safety."