Nurses syndicate from Cleland Hospital scoops £1m in lottery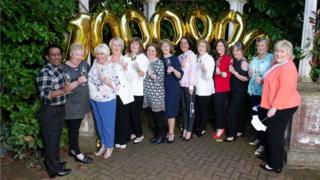 A syndicate of 15 hospital nurses from Lanarkshire are celebrating after scooping £1m in the National Lottery.
The group, from Cleland Hospital in Motherwell, each pocketed more than £66,666 after matching a Euromillions UK Millionaire Maker code.
They have been playing together for three years - with their previous biggest win being £12.
Between them, they plan to splash the cash on trips to Canada, Sri Lanka, cruises, new cars and a motorbike.
Thirteen members of the syndicate opted to share news of their win.
June Fraser, 58, who was in charge of checking tickets each week, said she had used the National Lottery app to check them on Saturday morning.
"I scanned the first one and it wasn't a winner - I actually thought that was the ticket for Friday night's draw and very nearly didn't scan the second one as I thought it was for a future draw," she said.
"When I did and it told me that we'd won £1m I thought the app must be broken - I couldn't believe it.
"My first phone call was to my ward where I managed to get hold of two of the other members who were working.
"I phoned a few other members but I was just too hyper to call everyone at that point. I still went into work later that afternoon though."
'Financial security'
When Ms Fraser went to work she pinned the winning ticket inside her nurse's uniform.
Carol Hamlyn, 59, said the win meant she could have a dream retirement.
"I am due to retire in November and this win will be life-changing for me," she said.
"I was going to have to keep doing a few shifts but now I have financial security and I can also look after my four children and my three grandchildren."
The first thing the nurses planned to spend their money on was a bumper batch of cakes and goodies to treat the staff, patients and families at Cleland Hospital.