'Dangerous' part-worn tyres being sold
By Katie Hunter
BBC Scotland reporter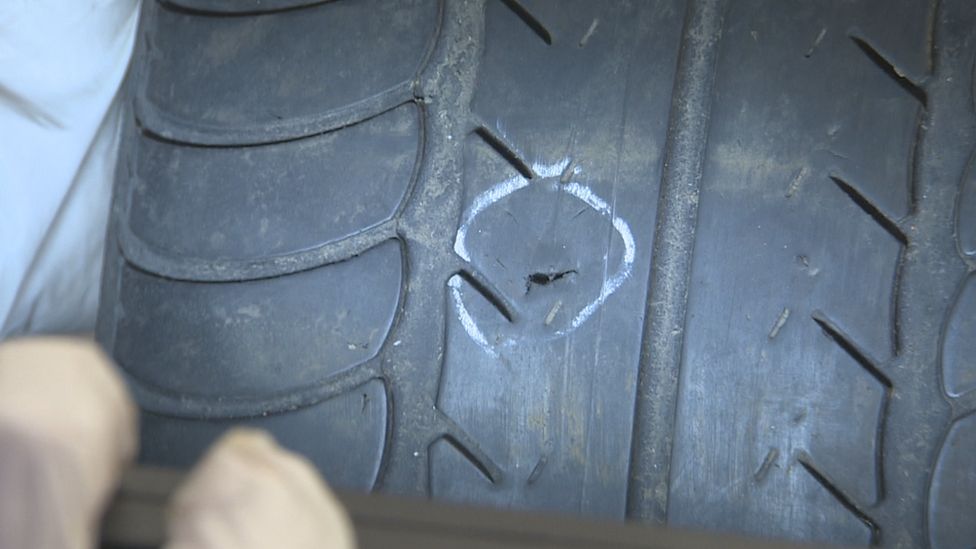 "Dangerous" second-hand car tyres are being sold illegally at garages in Glasgow and South Lanarkshire, a BBC Scotland investigation has found.
Part-worn tyres must meet minimum legal standards to ensure they are safe.
Working with charity TyreSafe, the BBC bought 10 tyres and had them tested by an industry expert.
Stephen Dolby found three of the tyres were not safe to be put back on the road and a further five were sold without the legal "part-worn" stamp.
Only two of the 10 tyres were both roadworthy and stamped as required by law.
The defects in three tyres included two with puncture repairs that had not been properly carried out.
One of these had a deep cut caused by glass which had exposed the inner rubber to moisture and corrosion.
One tyre had significant damage in the bead area, which could cause the loss of air once the tyre was fitted on to a rim.
A further five of the tyres were supplied illegally because they were not stamped with a "part-worn" marking.
This is a legal requirement to show the dealer has carried out the necessary safety checks.
Only one of the seven dealers involved did this.
Tyresafe chairman Stuart Jackson said: "Dangerous and non-compliant tyres are very commonly sold by part-worn retailers to unsuspecting motorists, so it is regrettably no surprise that the majority of those bought by the BBC were unsafe and illegally supplied."
Mr Jackson said part-worn tyres were, at best, part-safe.
He said: "Drivers should also remember part-worns have already been used and only need to be sold with 2mm of tread, giving them a reduced lifespan and making it necessary to change them more frequently."
One of the tyres bought by the BBC for £20 was 17 years old, had an unsafe puncture repair and a piece of glass through the casing.
It was bought from a company calling itself Performance Tyres, on Woodville Street, Govan, in the southside of Glasgow.
When we returned to the garage the owner apologised for selling the tyre and admitted the necessary safety checks had not been carried out.
Another tyre was 13 years old and, while it had "no significant visible damage", Mr Dolby said it should not have been put back into service.
Two of the 10 test purchase tyres were winter tyres.
Mr Dolby said that there was no legislation around the use of winter tyres in the UK but they should only be supplied to customers who need them.
He said mixing standard tyres and winter tyres on a vehicle could seriously affect its handling and stability.
North Ayrshire Council is one of the few local authorities in Scotland which carries out proactive checks on part-worn tyre dealers.
We joined police, trading standards and TyreSafe on a raid at one garage, which we cannot identify for legal reasons.
We found several tyres for sale with serious safety defects, including nails stuck in them.
Police Scotland's Sgt Kevin Blackley said he was "shocked" by what he had seen.
He said: "To have a six-inch nail sticking out of a tyre being offered to a member of the public is unimaginable that someone would perhaps drive about with that and the carnage it could then cause on the roads."
He added: "I would say to motorists, rather than saving £5 or £10, look at a new tyre. You can buy a brand new tyre for a little over £40.
"It's a tyre that should last longer and would be safer on the road."
Mr Dolby said: "We found some really poor tyres. Some tyres in some really dangerous states. In particular, bad puncture repairs.
"Puncture repairs have to be done properly otherwise when you are on the road they can cause big safety problems for people.
"The worst case was a socket that was still stuck in the tyre itself. Within a short distance that would come out and cause a puncture."
He said the tyres were stored badly outside, exposed to rain, sunshine and dirt that would make them "deteriorate very quickly."
Andy Wyllie, a trading standards officer with North Ayrshire Council, said: "We can't have these (unsafe tyres) on the roads.
"I can't believe these are for sale in North Ayrshire but obviously we're here to do something about it."
North Ayrshire Council plans to report the garage owner to the procurator fiscal.
Related Internet Links
The BBC is not responsible for the content of external sites.