Glasgow Clydeside Expressway bus crash: One critically hurt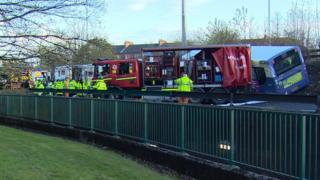 One person is in a critical condition and two more have been seriously injured in a bus crash in Glasgow.
Five more people are thought to have suffered injuries in the crash, on a sliproad to the Clydeside Expressway close to the Clyde Tunnel.
It happened on the A814 sliproad, just north of the tunnel.
The crash, which took place just after 19:00 on Sunday, involved a single-decker First Bus vehicle, which went up an embankment.
It was not clear if any other vehicles were involved in the collision.
Ambulance, fire and police crews were sent to the scene, where casualties were treated.
The A814 sliproad was closed to traffic but reopened at about 05:30 on Monday.
Police said eight people in total were taken to hospital.
Five people, including the bus driver, were taken to Queen Elizabeth University Hospital where one person was described as being in a critical condition.
One person was taken to Glasgow Royal Infirmary and two more to Royal Alexandra Hospital.
Lisa Stirling's husband was among those on the bus. She told BBC Scotland: "He was sitting at the front and he went flying forward.
"He has hurt his right leg. His knee is badly swollen. He hurt his arm and has he chest pains. He's got a big gash on his head - it's a big cut, split open."
First Glasgow, the operator of the bus, tweeted saying "Our thoughts are with those involved in this serious incident.
The firm said details about the cause of the crash were "unclear".
It added: "We have members of our team at the scene to assist the emergency services, who we cannot praise highly enough for their quick response and professionalism during this incident."