Development fears at 'important' sand dune site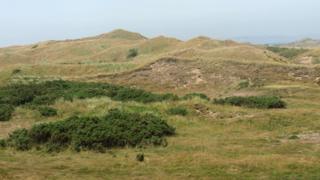 Environmentalists believe an important sand-dune system on the Ayrshire coast could be destroyed because of a 65-year-old government order.
The Scottish Wildlife Trust says the former ICI site at Ardeer has become a Mecca for wildlife since it closed in the early 1980s.
A Special Development Order from 1953 allows building work without the need for full planning permission.
Now the trust wants the Scottish government to rescind the order.
At 623 hectares, the Ardeer Peninsula is the largest brownfield site in North Ayrshire and one of the largest in Scotland.
Experts say they have spotted rare bees, birds and insects including minotaur beetle which are usually only found further south.
Beetle enthusiast Bruce Philp said: "As well as the dune grassland that is behind us, there is open heath, there is woodland of various kind, damp areas and so on.
"So, (there is) a big variety of habitats in a mosaic and that mosaic means that each one can have its own particular species.
"My main interest is in beetles and here there are lots of opportunities for them to live in areas which are warmed up by the sun.
"There are beetles of varying interest. There are quite a few here that meet their northern limit in Britain round about Ardeer."
Although there are still factories on parts of the site, the full peninsula was largely abandoned in the 1980s when the ICI Nobel explosives factory closed its doors.
Plans have now been drawn up to redevelop the site with housing, retail, a hotel, marina and a golf course.
SNP group leader on North Ayrshire Council, Marie Burns, backs the development but "absolutely not at any cost."
She added: "I think this site is important in terms of wildlife and development and I don't think the two are mutually exclusive.
"But I do think to address both those things it has to be done within the regulatory framework that applies across the whole of North Ayrshire."
'Shared vision'
The development is part of a much wider set of projects for which the three Ayrshire councils are seeking government help.
It will be at least a year before any detailed plans are drawn up and as much as 10 years before projects are fully rolled out.
In a statement, North Ayrshire Council said: "The order has been in place since 1953 and clearly things have changed since then.
"Ideally we would like to see our vision for the site achieved through a voluntary revocation of the order, backed by legislation and a shared vision for the future of Ardeer.
"While we cannot offer any guarantees we are actively speaking with landowners and the Scottish government to see how we can move this forward.
"As it stands, however, the order remains valid but anyone looking to develop on the site would be advised to obtain a certificate of lawful use or development from North Ayrshire Council."
'No proper scrutiny'
Local members of the Scottish Wildlife Trust believe the site is "of SSSI quality", which would require even greater scrutiny before any work can be carried out.
But with the order it place, they believe it cannot even be considered for such a status.
With uncertainly remaining, the Ayrshire branch of the Scottish Wildlife Trust believes the site is unprotected.
Chairman Dr Roger Hissett said: "It means we have got an area which is very good for biodiversity but if anything was to be developed here there is no proper scrutiny of what damage might be done and that is our main worry."
A Scottish government spokesman said: "We are aware of a Special Development Order in Ardeer that has been in force since 1953. North Ayrshire Council has raised the issue of revoking the SDO with the Scottish government and we are working together to establish the best course of action.
"The minister for local government, Kevin Stewart, recently addressed the issues concerning Ardeer in parliament, and acknowledged the unusual circumstances of the SDO. Mr Stewart has offered to meet with local MSPs and representatives to discuss options going forward."