Mother tells of moment she heard son died in shooting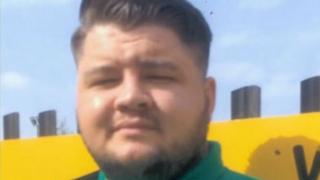 The mother of a man shot in the head while in his car has told a court of the moment she found out he had died.
Anne McChord said she "screamed and threw the phone down" after receiving the call telling her that Euan Johnston had died of his injuries in hospital.
She was giving evidence in Glasgow's High Court at the trial of two men accused of killing her son.
Antony Ruthven and David Scott deny murdering the 26-year-old by repeatedly shooting him in the head.
Ms McChord told court she went to hospital where she was told her son had died, but placed her hand on his chest to find his "heart was beating".
Phoned by friend
She was then told by a surgeon that that it would be cruel to keep him alive on a life support machine.
Ruthven and Scott - both 33 - are charged with murdering Mr Johnston, also known as EJ, on November 15, 2016.
Prosecutors claim the pair - while acting with others unknown - did "repeatedly discharge" a firearm at the 26-year-old father in the Glasgow's Kinning Park.
Ms McChord said she last spoke to her son on the day he was shot. She remembered Mr Johnston giving her money to get her glasses at the opticians.
She was then at home about 23:15 when she was telephoned by his friend Brian McMahon.
Describing what she was told, Ms McChord went on: "I got a call to say that my son had been shot."
Ruthven and Scott deny the charges.
The trial, before Judge Lady Stacey, continues.