Dash cam appeal after fatal shooting of Kenneth Reilly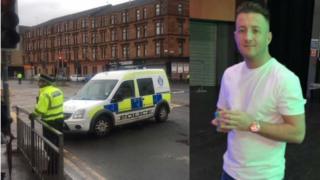 Police investigating the fatal shooting of a man are appealing for any dash cam footage to help them catch the killer.
Kenneth Reilly was shot in the head while sitting in a car at traffic lights in Ruchill, Glasgow, on 16 April. He later died in hospital.
Officers stopped 600 cars and interviewed more than 100 people as part of the investigation.
They are now asking for footage from dashboard cameras which may have picked up any important evidence.
Mr Reilly, 29. was sitting in the passenger seat of a silver BMW on Bilsland Drive at around 22.25 when he was shot.
One week on, a major stop and interview operation took place in the area.
Det Supt Kenny Graham urged anyone with dash cam footage to contact police, saying: "It's possible their footage may have captured something which will assist us in piecing together exactly what has happened.
"It doesn't necessarily have to be on the day of the crime, and we would ask you to provide us with any footage you may have for that area."
It is understood the gunman, who was wearing a black balaclava, got out of a dark vehicle and fired a number of shots before fleeing the scene.
Police said a black people carrier was found later burnt out at Craigieburn Gardens, Maryhill.
Detectives believe the shooting is connected to a local feud.