SNP MSP Ivan McKee rescues elderly man who fell in canal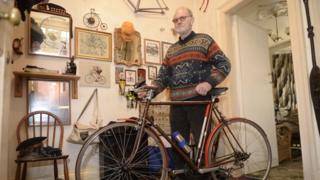 An MSP came to the rescue after an elderly Glasgow man toppled into a canal when cycling home.
SNP politician Ivan McKee was on hand to haul 81-year-old Bill Watson out of the Forth and Clyde canal on Easter Sunday.
Mr Watson was cycling along the Forth and Clyde canal when he and his bike fell into the water.
The Glasgow MSP dragged Mr Watson out of the icy water and he was taken to hospital with hypothermia.
Mr Watson said: "I thought I would give cyclists some room coming past. The next minute I was too near the edge and I've fallen into the water."
"I was hanging onto a ledge and my bike was all tangled and I couldn't get up. I shouted for help for a while, but it was a quiet day and there was nobody there."
Luckily, Mr McKee was jogging past and came to the Mr Watson's aid.
"Eventually I saw a figure over the parapet, who dragged me and the bike on to the bank," Mr Watson said.
The MSP was assisted by two women who phoned emergency services. Mr Watson was then taken to hospital with hypothermia, and doctors discovered he also had a heart condition so a pacemaker was fitted. He was released after four days.
But he did not know who his saviour was until Mr McKee visited his home to find out about his recovery.
"That's just the type of person he is. He's a very nice man."
"I never recognised him until he came to my home. I only saw a yellow top, he was out jogging, lucky for me. I got a 'celebrity' to pull me out of the water."