Man jailed for trying to smuggle gun hidden in speaker into Scotland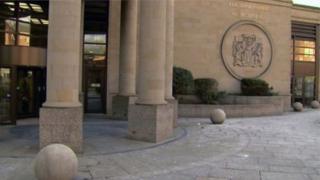 A rail worker caught trying to smuggle a gun into Scotland after police bugged a parcel sent to his home has been jailed for three and a half years.
The High Court in Glasgow heard Craig Samson came under surveillance when US Homeland Security intercepted a suspicious package last March.
It was found to contain a music speaker - with a working Glock handgun hidden inside.
The parcel had been marked for Samson's address in Baillieston, Glasgow.
Recording devices
The package was seized by security officials at Newark Ariport in New Jersey on 23 March last year.
They then alerted Police Scotland and a "placebo" parcel was instead sent on in a bid to catch whoever wanted the firearm.
The court heard how secret recording devices were planted inside the replacement speaker.
Samson later signed for the delivery at his home and was heard spelling out to his wife: "Quick...I think this is the G-U-N".
Samson was also caught on camera peering into the speaker after trying to prise it open.
It emerged in court that Samson got an interest in firearms after going to a shooting range on holiday in Thailand. He had wanted a gun as a "souvenir".
He pled guilty to attempting to import the gun into the UK without lawful authority.
Lady Stacey told him: "I accept that in Thailand you you went to a shooting range.
"But, if you had an interest in this hobby, you should have joined a club in this country."
Ronnie Renucci, defending, said Samson had not intended the gun to be used for "any other criminal purpose".
Mr Renucci added a friend had offered "an opportunity to obtain" a gun on return from Thailand and he "stupidly said yes"
The lawyer added: "He simply intended to have it as a souvenir. He accepts that it was foolish."