Pavilion Theatre bosses criticise access delay after fire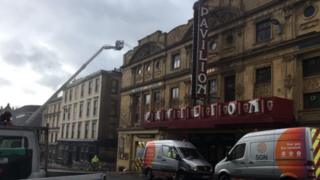 The owners of the Pavilion Theatre in Glasgow have criticised council bosses for refusing to allow them access to the building four weeks after a fire in a nearby nightclub.
The theatre has been closed for safety reasons since a blaze at Victoria's in Sauchiehall Street on 22 March.
Eight shows have had to be cancelled with a further 12 rescheduled.
Pavilion managers want to check for water leaks or damage "that could get potentially worse if we just leave it".
A statement issued by the theatre team said: "We are not asking for much to be honest. Just a short window to be allowed to gain access to the theatre to make sure everything is still OK.
"Four weeks is a long time to leave a building of this age unattended."
Fire crews worked for three days to put out the blaze, which forced the closure of several buildings and businesses in the Sauchiehall Street, Hope Street and Bath Street areas.
'Most historic building'
No-one was hurt and an investigation is under way into the cause.
An exclusion zone has been put in place around nearby buildings which are still deemed to be unsafe.
Pavilion bosses said, despite the delay, they "are not going to let the Pavilion get into a state of disrepair".
Their statement added: "We have spent so many years bringing this up to, what is, one of the best-kept theatres in Glasgow and have done this without the help of funds or subsidies from the council or Scottish government.
"Both we and the Council Officers have a duty of care to protect one of Glasgow's most important historic and cultural buildings and feel that it is currently irresponsible to just allow it to be left to potentially rot away as who knows what damage has happened inside.
"We call on Historic Scotland to get involved to help protect one of its Class A listed buildings as Glasgow simply cannot afford to lose another historic building.
"We are not asking for any financial support. We are simply requesting to be updated on the timescale involved in getting access to the theatre."
City of Glasgow Council were unavailable for comment.