Two men guilty of gay 'date' rape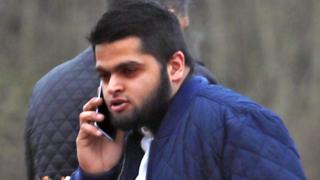 A 28-year-old man and a teenager have been convicted of raping two men they met through gay dating app Grindr.
Mohammed Khan and the 17-year-old Slovakian national called themselves "Two discreet lads" on the app.
They arranged to meet the men at their homes where they attacked them.
The teenager, along with Afzaal Hassan, 20, from West Calder, West Lothian, and Julius Horvath, 20, from Glasgow, were also found guilty of attacking and attempting to rob another man.
All four men had denied the charges at the High Court in Livingston.
The court heard how car mechanic Khan and the teenage Slovakian, who cannot be named for legal reasons, made contact with a 30-year-old man from the Pollok area of Glasgow.
They turned up at his home on 3 September last year after chatting with him on Grindr.
'Pushed against a wall'
There was a consensual sex act between the man and the teenager before Khan grabbed him by the arm and pushed him against a wall. The teenager then pulled down his lower clothing and raped him.
The pair's second victim, a 20-year-old student living in university halls of residence, said he had been threatened with violence before Khan forced him to perform a sex act on him on 7 September.
The Slovakian teenager, along with Hassan and Horvath, had previously attacked and attempted to rob a man after luring him to an industrial estate.
The 40-year-old victim told the court Hassan invited him to go with him for "sexual fun" in the early hours of the morning of 7 August last year.
He picked Hassan and the teenager up on Cathcart Road in Glasgow and was directed to drive to Tradeston Industrial Estate.
They were having a cigarette there when Horvath arrived in a car with "Khan's Autos" livery and walked up to him.
Words were exchanged before Horvath threw a punch at the man who then tried to escaped.
'Sordid evidence'
He was chased by the three men, who had armed themselves poles and lengths of wood.
The victim was eventually caught before being attacked.
A jury took three hours to return unanimous guilty verdicts on all four accused.
Thanking the jurors, judge Lord Uist told them: "This is not a case that anyone would have volunteered to be involved in because of the sordid and distasteful evidence which we all had to listen to."
He said he was obliged to call for social work background reports on all four men and remanded them in custody until he passes sentence at the High Court in Edinburgh on 17 May.
The judge told the men: "You have been convicted by the jury of serious offences. You may take it that those convictions will result in significant custodial sentences."
Khan and the teenager will both have their names added to the sex offenders register and will be told when sentenced how long they will stay on it.