Santander bank worker admits embezzlement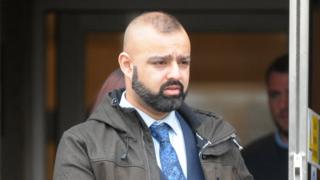 A bank worker has admitted helping to embezzle more than £50,000 from customers.
Rameez Ahmed Hamid, 32, took details including security information from clients of Santander bank, where he worked.
He later created new accounts for two of them. Money was then transferred from the accounts.
Suspicions were raised when new accounts were created and a change of address requested for a third customer.
Hamid's role in the transactions was identified from the staff ID number he used to access the accounts.
At Glasgow Sheriff Court Hamid, from Coatbridge in North Lanarkshire, pled guilty to embezzling £51,706 between June 2014 and February 2015, while acting with other unknown people.
Phone calls
The court heard that, in June 2014, customer Roy Ward called the bank and gave Hamid banking and security information.
Between June and November 2014, Hamid accessed his account on five occasions "without a legitimate business reason".
A phone call was later made to the bank changing Mr Ward's address.
Procurator fiscal depute Richard Hill said: "On January 3, 2015 Santander received a phone call whereby a new account in the name of Mr Ward was opened and a new bank card and personal identification number was sent to the new address.
"On January 12, 2015, two transfers from Mr Ward's accounts to the new account were processed to the value of £22,133 and £25,073.
"On January 14, 2015, £45,000 was then transferred from the new account in the name of Mr Ward to a Natwest bank account in the name of another individual."
In August 2014, another customer Andrew Shepherd provided banking and security information and later Hamid accessed his accounts on 52 occasions with no "legitimate business reason".
New bank card
Royal Mail was later contacted online and a mail re-direct service was set up to send mail from his genuine address to another.
In November 2014 a Barclays bank account was set up in his name. Two months later Santander received a call and £1,900 was transferred between Mr Shepherd's genuine account and the new one in his name.
A new bank card and pin was also requested from Santander and sent to the false address.
Mr Hill said: "Between December 17, 2014 and January 18, 2015, 26 bank transfers were processed moving a total of £12,600 from the legitimate account of Mr Shepherd to the new Barclays account."
Defence lawyer Elaine Rae said: "Mr Hamid's position is that he was contacted by another individual, who he knows, and that knows he works in the bank.
"They asked him to provide security information, and all of the information which he did provide was part of the fraudulent scheme."
He added: "It's accepted without Mr Hamid's involvement it simply would not have worked, he was pivotal to the scheme."
Sheriff Alan MacKenzie deferred sentence until next month and continued Hamid's bail.