Cambuslang chicken plant to close with loss of 450 jobs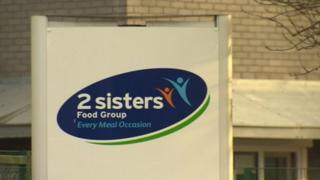 The 2 Sisters chicken plant in Cambuslang is to close in August with the loss of 450 jobs.
Unite claimed the workforce has been treated in a "shabby way" and local MP Ged Killen described the news as a "devastating blow".
In February the owners of the chicken production plant near Glasgow confirmed the jobs were at risk.
But on Thursday the company informed workers it could no longer sustain the "heavily loss-making operation".
'Crocodile tears'
Unite convenor Scot Walker said he asked for an extension to the consultation period last week so the union could make further approaches to the Scottish government for assistance.
But he said: "The company turned that down flat.
"They told us the factory was closing and that the consultation on that could not be extended."
The union also claimed the decision had been taken at board level before the company entered the consultation period.
Mr Walker added: "In the message to workers today there is a great shedding of written crocodile tears.
"The reality is different.
"It is about a closure decision that was already reached before consultation began.
"And then a process to deliver the company's foregone conclusion.
"What a shabby way to treat a workforce that has shown great loyalty to this company."
The union confirmed it now intends to seek legal advice.
Taskforce call
Mr Killen, Labour MP for Rutherglen and Hamilton West, said: "This announcement is a devastating blow for the workforce, their families and the wider community in Cambuslang.
"The priority now must be securing the best possible outcome for the workers who will be affected and I will do whatever I can to help in that process."
The company said the decision had not been taken lightly.
A statement said: "Since day one, we have been very open on the big challenges the factory faces.
"In fact we have been trying extremely hard to reverse the position for a considerable period of time.
"We have invested several million pounds since 2014 and expanded by taking on more people, yet it is still heavily-loss making operation."
The statement said attempts to reverse the downward trend have failed and claimed it has not seen "any credible proposal" to closing the factory at the end of August.
It concluded: "We will continue to support all our colleagues with all the redeployment options available to us, whether inside or outside the business."
2 Sisters is one of the UK's largest chicken suppliers but also provides biscuits, ready meals and frozen pizzas.
It previously announced it plans to create 250 new roles in Coupar Angus.