Catholic priest jailed for nine years for child sex abuse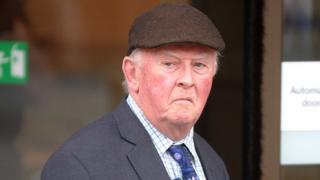 A Catholic priest has been jailed for nine years for sexually abusing three children and a student priest in crimes spanning more than 20 years.
Father Paul Moore, 82, committed the crimes in various locations in Ayrshire between 1977 and 1996.
The court heard how he abused one boy at a school, another at a leisure centre and a third on the beach at Irvine in the 1970s.
He was also found guilty of indecently assaulting a student priest in 1995.
The judge Lady Rae told Moore he was guilty of despicable crimes and a gross breach of trust.
She also said the victims had shown considerable courage in coming forward.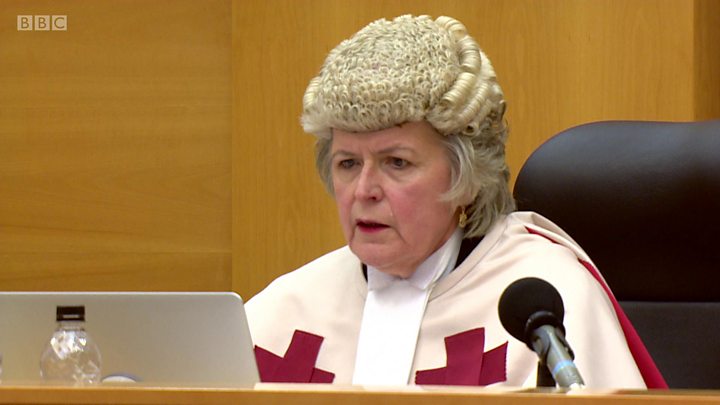 The youngest was just five when the priest abused him in his primary school.
The court heard that the priest groomed some of his victims by taking them swimming or out for meals before sexually abusing them.
A BBC Scotland investigation revealed five years ago that Moore confessed his abuse to his bishop in 1996.
Bishop Maurice Taylor, 91, gave evidence in the trial and told the court Moore admitted he had "an attraction to young boys" and had "a desire to abuse minors".
The bishop sent him to a treatment centre in Toronto and to Fort Augustus Abbey in the Highlands.
Moore was removed from the pastoral ministry after his admission but continued to live in a house purchased by the church.
The priest, who was identified in court as Francis Moore but was known as Father Paul, was found guilty after a trial at the High Court in Glasgow.
The Catholic Church in Scotland said it wished to "sincerely renew" its apologies to victims.
Bishop William Nolan, the Bishop of Galloway said: "All allegations of abuse are taken seriously and are reported to the police. It is hoped that publicity from a case like this will encourage survivors to come forward knowing that they will be heard and that justice can be achieved.
"I hope that the sentencing of the individual responsible will bring some comfort to those who have suffered, although it can never undo the harm they have experienced or the long wait for justice they have had to endure.
"I sincerely renew the apologies previously made for the abuse suffered by anyone in the care of those ministering or working on behalf of the Church.
"We aspire to the highest standards of care and protection, and are committed to rebuilding trust and confidence in the ways in which we ensure that children, young people and vulnerable adults are kept safe."
'Bravery of victims'
The Crown Office praised the courage of Moore's victims in coming forward.
Kenny Donnelly, procurator fiscal for sexual offences, said: "The actions of Francis Moore have had a devastating impact on the lives of his vulnerable victims.
"He was trusted and respected by the community he served while all along he was abusing his position of trust.
"Thanks to the bravery of his victims in coming forward to report what happened to them, he is now paying the consequences for his actions."