Vehicle rental firm collapses with loss of 428 jobs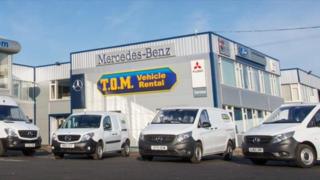 More than 400 workers are to lose their jobs after a vehicle hire firm collapsed.
TOM Vehicle Rental, based in Airdrie, North Lanarkshire, called in administrators after it was unable to overcome "operational difficulties".
Ernst & Young confirmed 342 employees had been made redundant across eleven locations in Scotland and England.
Administrators have retained 86 employees for up to four weeks to help them wind down the business.
Colin Dempster and Fiona Taylor have been appointed joint administrators of TOM Group Limited and its Scottish subsidiary companies - TOM Vehicle Rental Limited and Caledonian Truck and Van Limited.
The administrators said they were are confident of being able to sell the business and assets of a third subsidiary, Alistair Fleming Limited, which is based in Kilmarnock.
That sale would see all 21 employees transferred to the new business.
Mr Dempster said: "The group has incurred operational difficulties and associated liquidity problems in recent years that reflect low utilisation of their rental vehicles, as a result of a competitive market and changing customer preferences.
"Despite the best efforts to save the group, it could not continue to operate as a going concern and administrators were appointed.
"It is with regret that 342 people have been made redundant."
He added that a specialist team would help those affected claim outstanding wages and other payments.
Workers 'reeling'
Scottish Labour leader Richard Leonard has urged the Scottish government to take action to help the workers.
Mr Leonard said: "The workers must be reeling at this announcement and my thoughts are with them and their families who are now facing a time of great uncertainty.
"These job losses are based across a number of sites in Scotland and the Scottish government must quickly act to establish how it can help the workers and the communities affected, and consider how it can intervene to look at all viable options to save these jobs.
"It's another blow for the Scottish economy which is already stagnant, and comes just days after further job losses have been announced in the retail sector."