Parent who harassed teacher loses appeal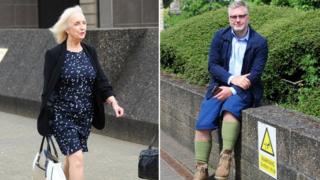 A parent who was given a three-year interdict after subjecting a retired head teacher to a 10-year campaign of harassment has lost his appeal.
Geraldine McWilliams took Richard Russell to court over claims he scared and intimidated her after she contacted social work about his children.
He appealed after an interdict preventing him from approaching or contacting her was granted last year.
Sheriff Principal Craig Turnbull has now dismissed Russell's appeal.
The allegations of intimidation and harassment date back to 2006 when Mrs McWilliams was head teacher at a primary school in Glasgow.
An interim interdict was granted in December 2006 in a bid to stop him but Russell continued to harass and intimidate her.
A further interim interdict was granted in February 2007 and he was found in contempt of court in January 2009 for breaching a court order.
In 2008 Russell was convicted of a breach of the peace because of a letter and an incident at the school, and fined £350.
Non-harassment order
Last October, Sheriff Aisha Anwar granted a three-year interdict preventing Russell from approaching or contacting Mrs McWilliams or printing defamatory material about her.
She granted power of arrest if any orders were flouted, as well as a three-year non-harassment order.
Russell appealed, claiming the interdicts and non-harassment orders were not competent.
He also argued that the sheriff's decision to hear from Mrs McWilliams' lawyer when he was absent during the proof was "oppressive" and breached his human rights.
He also challenged an earlier decision by another sheriff that his counterclaim against Mrs McWilliams was to be heard after the current matter and only with leave of a judge sitting in the Court of Session.
In a judgement by Sheriff Principal Craig Turnbull the appeal was refused, with the exception that Russell can continue with his counterclaim.
He said it would be "inappropriate to deprive" Russell of the opportunity to continue with it "on the basis of his prior failures to challenge" the decision.
The sheriff principal ruled that the interdicts and non-harassment orders granted were competent.
During the hearing the sheriff heard submissions from Mrs McWilliams' lawyer after Russell took unwell and did not return to the court the following day.
Russell was advised to get a soul and conscience certificate from his doctor - which he did not do - and told that the hearing might proceed without him - which it did.
In the judgement Sheriff Principal Turnbull ruled "the appellant's decision to absent himself on 23 August was a matter of his own choosing.
"He was not deprived of a hearing, he chose not to attend."