Man jailed after Glasgow crossbow attack in Easterhouse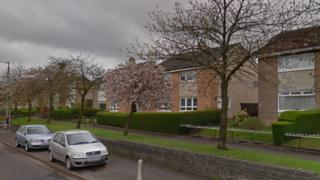 A man who fired a crossbow bolt into another man's chest has been jailed for three years and nine months.
Dylan Gowans discharged the weapon in the direction of a group of people he believed were responsible for attacking his grandfather's home.
The 23-year-old instead struck Archibald Climson, who happened to be out looking for his daughter.
Gowans pled guilty to culpably and recklessly discharging a crossbow to the danger of Mr Climson's life.
The attack happened in Easterhouse in the early hours of 11 September 2016.
Mr Climson, 46, was struck on the left side of the chest with a crossbow bolt and was rushed to hospital with potentially life threatening injuries.
The High Court in Glasgow heard that he suffered a collapsed lung and needed a blood transfusion following the incident.
"Medieval times"
Gowans was caught on CCTV carrying the crossbow, and traces of his DNA were found, despite previously denying touching the weapon.
Addressing Gowans, Lord Mulholland said: "You could have easily killed the man if the bolt struck another part of his body.
"It is alarming that you caused a member of the public to be shot by a crossbow.
"This is not medieval times. This is Glasgow - a civilised society in the 21st century."
Brian Fitzpatrick, defending, said: "It was because of the stone being thrown he did this.
"There was no intent to fire it at anyone to their injury. I think there was no actual danger to Mr Climson's life, although there was the potential."
Lord Mulholland said the jail-term would have been five years, but for the guilty plea.
Mr Climson recovered from his injuries but died from an unrelated condition last year.