First low emission zone labelled 'no ambition zone' by campaigners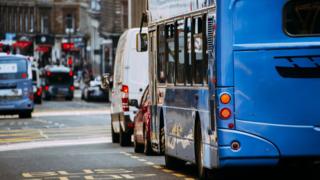 Plans for Scotland's first low emissions zone will not ban any single class of vehicle in its first four years of operation.
Draft plans published by Glasgow City Council reveal that only the most polluting buses will be targeted.
And it will be 2022 before they are prevented from entering the low emissions zone.
Friends of the Earth Scotland said it falls short of the SNP's pledge to create a low emissions zone by 2018.
The Scottish government vowed to deliver low emission zones in four Scottish cities by 2020.
The Glasgow city centre plan, launched on Friday, will be the first and is due to be voted on by councillors next week.
But it has emerged the zone will be enforced at 23:59 on Hogmanay as part of the SNP's election commitment to introduce Scotland's first low emissions zone by 2018.
Campaigners said this plan does not meet that pledge.
The plan aims to see cuts to bus emissions phased in over 5 years - but with the rules only applying to one in five buses by the end of this year and no timetable in place to limit pollution from cars, vans and lorries, there has been criticism of the scheme.
FoE Scotland said this plan failed to deliver the clean air that was legally required in the city, and would breach national and local commitments from the SNP.
The charity has labelled it a "no ambition zone".
The council said it was working with bus operators and government funding to retrofit fleets to make them compliant with emission targets.
Councillor Anna Richardson, convener for sustainability and carbon reduction, said: "While we continue to work with the bus industry to improve services - services which are vital to the lives of Glaswegians - it's recognised that the introduction of a LEZ needs to be proportionate and managed in such a way that ambition and practicality can be balanced.
"That is why the initial phase of the LEZ will address local buses through Traffic Regulation Conditions set by the Traffic Commissioner. Buses will be expected to meet Euro VI emission standard by December 2022.
"All other vehicles will also have to be compliant by that date, so we will be engaging widely with residents and businesses to ensure that everyone is aware of and prepared for the LEZ.
"Glasgow is forging a national path towards cleaner air - air that we will all benefit from. Poor air quality is a significant public health concern and a major social justice issue for Glasgow."
Emilia Hanna of Friends of the Earth Scotland said: "The people of Glasgow were promised a low emission zone, but these proposals will create a 'no ambition zone' that does almost nothing to speed up air quality improvements so desperately needed in the city.
"The proposals condemn Glasgow to illegal air for years to come and must be urgently improved.
"Councillors must recommend these proposals be significantly improved when they discuss them next week or they will have failed the people of Glasgow who suffer daily from the health impacts of air pollution.
"A low emission zone which has no signs to mark it, no new cameras to catch offenders and continues to allow almost every dirty vehicle into the city centre, is not a low emission zone."
The Federation of Small Businesses has warned that few Scottish firms are prepared for these new rules.
Andy Willox, FSB's Scottish policy convenor, said: "These proposals must be developed in partnership with local traders.
"FSB believes that firms and residents must be given time to adapt - that's why a phased approach is so important."
Analysis from David Henderson, BBC Scotland transport correspondent
Where does this leave the Scottish government's commitment to improving air quality?
Well it faces a hard balancing act - as it tries to deliver low emissions zones, with minimal impact on bus companies and vehicle owners.
In Glasgow alone, between 700 and 1000 buses may need to get new exhaust systems fitted - to bring them up to standard.
That's a huge potential cost to bus operators.
So far, the Scottish government's committed about £11m to fund ALL the low emissions zones in Scotland.
That sum doesn't look anything like enough to cover the cost of improving the entire bus fleet.
So, inevitably, bus companies will have to bear the cost - or be unable to operate in city centres.
And that's just the buses.
Thousands of vans, lorries and cars may need a costly trip to the garage, for a new improved exhaust system.
The Federation of Small Businesses says many firms which operate in Glasgow city centre will also do work in Scotland's other cities.
So they argue localised low emission zones will have an unfair impact on some, and that fairness requires Scotland-wide standards.
They also point to the cost - and call on the Scottish government to offer help to smaller firms to invest in newer, greener fleets of vans and lorries.
So a big battle lies ahead over who pays the price for this big push towards cleaner air.
Will it be the Scottish government and Scottish taxpayers? Or will it be bus companies and vehicle owners?
Or will the price continue to be paid by the people who're made ill by pollution from vehicles?
It's a very hard choice. And we don't yet have a clear answer.